Innovative Research and Economic Engagement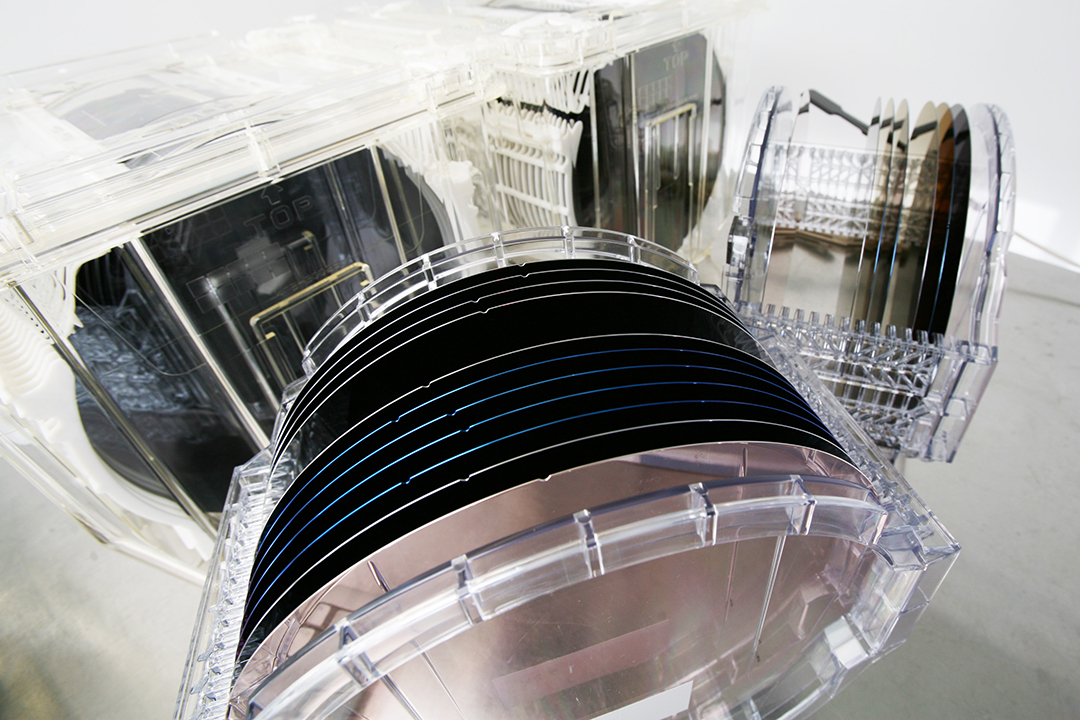 Research Highlights

SUNY Polytechnic Institute's annual sponsored program expenditures for the cumulative fiscal year ending 6/30/22 totaled $328+ million.
SUNY Poly received 35 awards during this period and boasted 50 distinct project principal investigators, with federal, state, and private funds supporting nearly 150 organized research projects and everything from fellowships to public service and training.
Albany Business Review: CATN2 'Accelerator aims to grow cluster of power semiconductor companies in Capital Region'
The Power Electronics "industry historically has been focused on developing chips used in medium-level voltage applications, like electric cars," Michael Fancher, Dir. of the NYS Center for Advanced Technology in Nanomaterials and Nanoelectronics (CATN2) said. "Now, CATN2 is focused on the next phase — supporting companies that are developing chips for high-voltage applications."
Assistant Professor of Biology Dr. Adam McLain with Assistant Professor Dr. Lauren Endres received more than $105,000 from the National Institute on Aging, a division of the National Institutes of Health (NIH)
The grant, part of an overall $439,000 collaborative research effort with University of Minnesota Associate Professor Dr. Christopher Faulk, will provide hands-on experience for students as it focuses on understanding genetic aging-related processes across mammalian species, with research spanning both SUNY Poly's Utica and Albany campuses.
SUNY Polytechnic Institute Receives Nearly $200,000 in Funding from NSF for Better Modeling of Rocking Foundations to Improve Structural Resiliency During Earthquakes
Associate Professor of Civil Engineering Dr. Sivapalan Gajan received $198,000 in funding from the National Science Foundation (NSF award number 2138631). The research combines physics with data science, leveraging computational modeling, simulations, and machine learning capabilities to develop a greater predictive framework to enable engineers to design more effective rocking systems for foundations to improve the resiliency of buildings and bridges in order to reduce human and economic losses resulting from earthquakes.
$5.5 Million from Air Force Research Laboratory for Smaller, More Efficient Computer Chips That Can Learn and Adapt
Empire Innovation Professor of Nanobioscience Dr. Nathaniel Cady was awarded $5,500,000 in funding from the Rome-based Air Force Research Laboratory to demonstrate adaptable and reconfigurable neural networks, computing systems that act like synapses in the human brain.
Nearly $700,000 in First Round Funding to Contribute to the Development of Next-Gen Night Vision Systems
Professor of Nanoscale Engineering Dr. Shadi Shahedipour-Sandvik has received $699,000 from Defense Advanced Research Projects Agency (DARPA) as part of a research effort lead by SRI International and in collaboration with Vanderbilt University. The overall initiative seeks to address challenges with current night vision (NV) systems that limit the wearer's agility and comfort. SUNY Poly researchers will focus on developing image intensifier components, which will reduce the size and weight of an NV system, and therefore the strain on their user.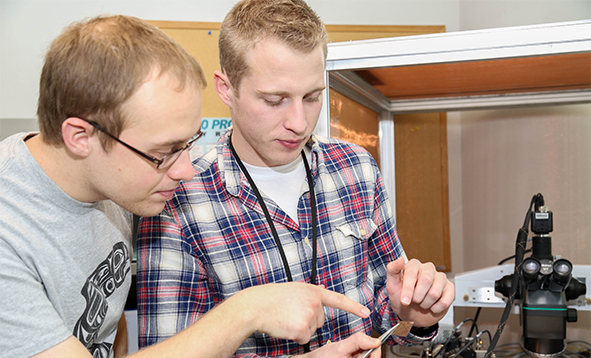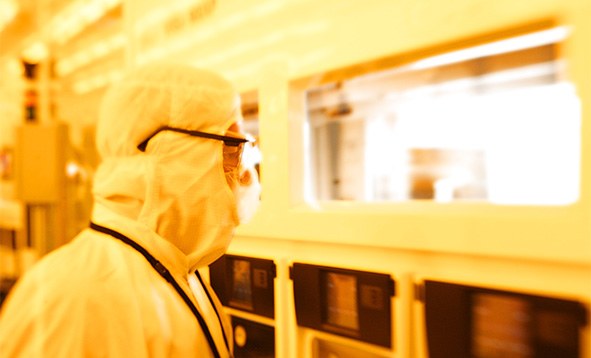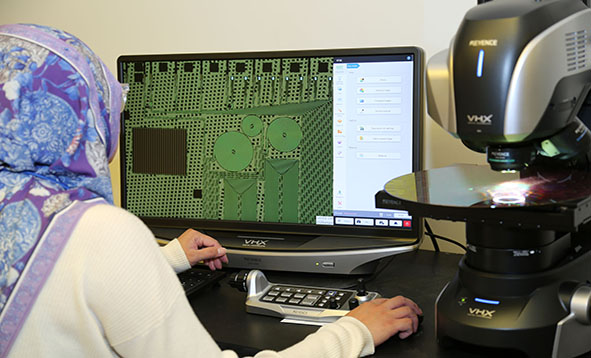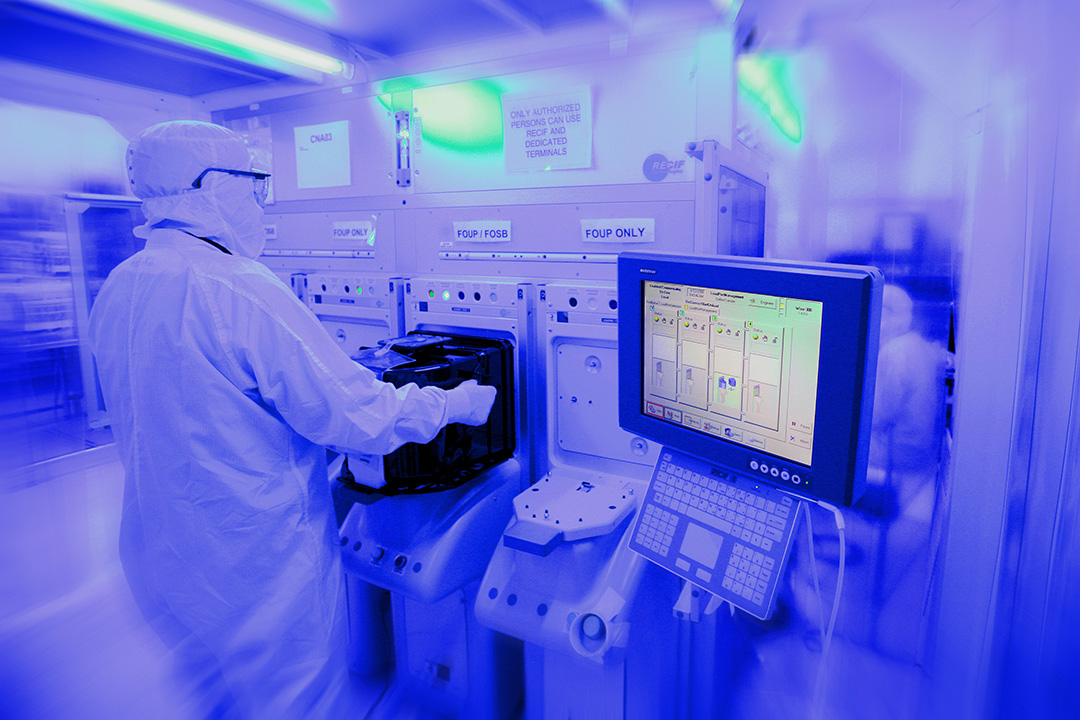 Research Partnerships Highlights

Sen. Schumer and Gov. Hochul Visit Albany Campus
On January 24, 2022, Senator Charles Schumer, Governor Hochul, and U.S. Department of Commerce Deputy Secretary Don Graves toured the Albany Nanotech Complex, seeing first-hand the incredible research and workforce development capabilities that make it an ideal location for the nation's first National Semiconductor Technology Center.
Sen. Schumer's U.S. Innovation and Competition Act calls for the creation of the Center. During the press conference, he said he had Albany in mind when he wrote the legislation. The event received widespread media attention, with Spectrum News touting, "SUNY Poly an epicenter for developing and researching semiconductor technology."
IBM – AI Hardware Center
In 2019, it was announced that IBM, a long-time anchor tenant at the Albany NanoTech Complex, plans to invest over $2 billion to grow its high-tech footprint at the site and throughout New York State. This includes the establishment of an "AI Hardware Center" for artificial intelligence-focused computer chip research, development, prototyping, testing, and simulation. The AI Hardware Center will be the nucleus of a new ecosystem of research and commercial partners and further solidify the Capital Region's position as a global hub for innovative R&D.
Applied Materials – Materials Engineering Technology Accelerator (META Center)
Applied Materials Inc. is partnering with New York State to establish the Materials Engineering Technology Accelerator (META Center) at the Albany NanoTech Complex. ESD is providing a five-year, $250 million capital grant for the Research Foundation for SUNY to purchase and install tools in an advanced research and development facility that will further position the Capital Region to be a global materials engineering research hub. Applied Materials will bring in $600 million in investments through the META Center. Additional high-tech partners are also expected to locate at the META Center.
Wolfspeed Marcy Nanocenter Fabrication Facility—and a Commitment to Opportunities
Wolfspeed (formerly Cree), a global leader in silicon carbide technology, is investing $1 billion over six years to construct and equip a new, state-of-the-art, highly automated, 200 mm silicon carbide wafer fabrication facility, which had its ribbon cutting in spring 2022. This public-private partnership will provide 430 million dollars in research and development and plans to create 600 full-time highly skilled technician and engineering positions at the Marcy Nanocenter on SUNY Poly's Utica campus, which will provide internship and career opportunities for students and alumni.
Wolfspeed has also committed to a $2M scholarship program over ten years. This initiative is complementary to the announcement of the Dr. John Edmond and Dr. John Palmour SUNY Polytechnic Institute Endowed Faculty Chairs. The five-year, $1,500,000 funding underpins the continued expansion of science, technology, engineering, and mathematics (STEM) opportunities for students at SUNY Poly.
Innovare Advancement Center – a SUNY, SUNY Poly, Griffiss Institute, Air Force Research Laboratory Partnership
With Innovare Advancement Center having launched in fall 2020, it is emerging as a global catalyst to converge world-class talent with cutting-edge facilities and focused technology challenges to accelerate the development of game-changing capabilities that protect and empower our country. SUNY Poly is looking forward to additional ways to partner through this innovative collaboration, with faculty already engaged in research opportunities.
Nearly $400,000 in Funding from NYSERDA to Expand Facility Operation & Maintenance Training for Technicians, Engineers and Business Personnel
SUNY Poly's CNSE announced Michael Fancher, Director of SUNY Poly's Advanced Manufacturing Performance (AMP) Center and the New York State Center for Advanced Technology in Nanomaterials and Nanoelectronics (CATN2), received $397,000 from the New York State Energy Research and Development Authority (NYSERDA) to train on-site employees and to serve as a regional training hub for Building Operations & Maintenance (O&M) of mission critical facilities that will utilize a "digital twin" of the Building Management System (BMS) and the Energy Monitoring System (EMS) that are used to operate the Zero Energy Nano (ZEN) smart building.
Career Alignment Platform at the Advanced Manufacturing Performance Center to Advance High-Tech Workforce
The Advanced Manufacturing Performance (AMP) Center at SUNY Poly, in collaboration with Edwards Vacuum (Edwards), TEL Technology Center, America, LLC (TEL), DPS Group, and SEMI, announced the launch of the Career Alignment Platform (CAP). This cutting-edge workforce initiative aims to attract and develop the highly skilled technical workers needed for digital manufacturing in the semiconductor industry.
The Times Union covered the Advanced Manufacturing Performance (AMP) Center's new Career Alignment Platform, noting, "SUNY Poly program gets tech workforce ready for the future."
SUNY Poly Highlights its Efforts to Build the High-Tech Workforce to Support the Nation's Computer Chip Needs as Part of ASIC
It is critical to stand up the new National Semiconductor Technology Center (NSTC)—but a robust, diverse workforce well-versed in the latest semiconductor research, along with semiconductor experts, is undoubtedly required for its success. SUNY Poly has been addressing this need with its government and industry partners for more than a decade, and it is proud to support the American Semiconductor Innovation Coalition (ASIC) as it advocates for an effective, efficient innovation hub of the proposed NSTC.
SUNY Poly's CNSE cited as model for US-EU semiconductor collaboration by Center for Strategic and International Studies
SUNY Poly's CNSE was also cited as a key semiconductor research organization to drive NSTC success.
Cornell, with partners including SUNY Poly, form regional research hub funded by AFRL
The Central New York Business Journal shared that the "Initial partners of the Mid Atlantic AFRL Regional Hub include Princeton University, Binghamton University, SUNY Polytechnic Institute, the U.S. Department of Energy's Brookhaven National Laboratory, and the Griffiss Institute's Innovare Advancement Center, as well as corporate partners such as GE Research, IBM, Google, Microsoft, Corning, and Amazon. After the launch, the hub plans to expand this core group to include other institutions. The pilot initiative will also include a regional hub in the Midwest led by Purdue University."