SUNY Poly 2021-2022 Highlights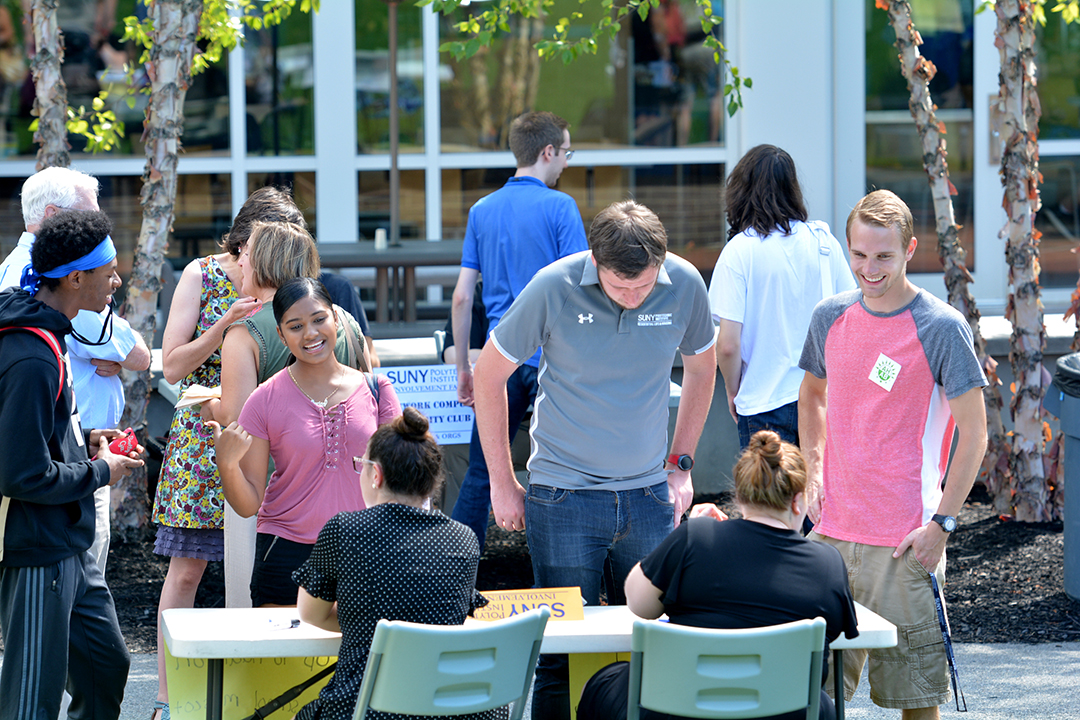 Mission | Vision | Values

Mission
SUNY Polytechnic Institute serves as an intellectually vibrant, creative, and stimulating environment for innovation, education, and outreach that prepares its students to apply basic and applied knowledge to challenges, complexities, and opportunities to advance our modern technological society. SUNY Poly:
Provides an affordable, comprehensive, and integrated range of undergraduate and graduate educational and research programs of the highest quality;
Provides students with a well-rounded education to prepare them as future leaders in a dynamic and diverse world by demonstrating the interconnectedness of knowledge and cultures and emphasizing the importance of continuous learning;
Engages in the formulation and dissemination of new discoveries, exciting innovations, stimulating research endeavors, and fundamental and applied knowledge through research and creative inquiry;
Fosters economic development and creates educational opportunities within New York, the nation, and beyond and promotes responsibility and commitment to public service; and
Serves as a leader for innovation throughout its educational program, from theoretical principles to practical applications.
Vision
SUNY Polytechnic Institute is a vibrant community engaged in the pursuit of scholarship, public service, and intellectual and creative endeavors. SUNY Poly is a premier polytechnic institution dedicated to improving society by advancing knowledge—and its application—and promoting entrepreneurship and economic development.
Values
Academic Excellence through intellectual achievement, collaboration, accomplishment in teaching, research, discovery, and scholarship, and innovative pedagogy both in the classroom and online;
Inclusiveness and Diversity through respect, accessibility, and actions to embrace difference, experience and thought
Transformational Experience through student-centered curricula, strong co-curricular environment, and support of personal and professional growth;
Integrity by celebrating academic freedom, sustaining academic responsibility, and developing an ethical citizenry;
Civic Responsibility;
Student Success; and
Faculty, Staff, and Student Lifelong Relationships.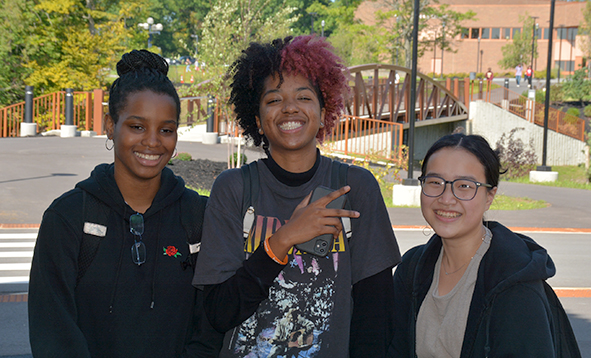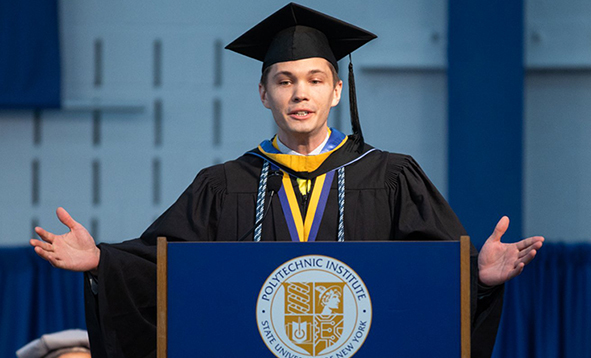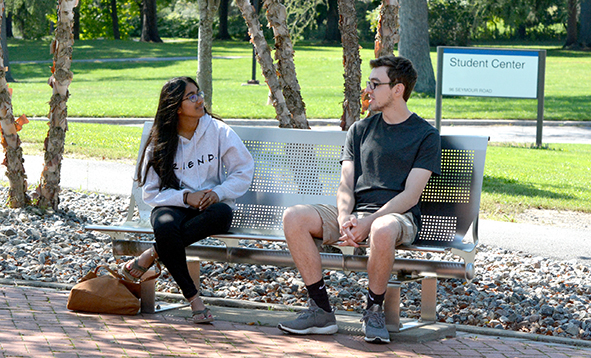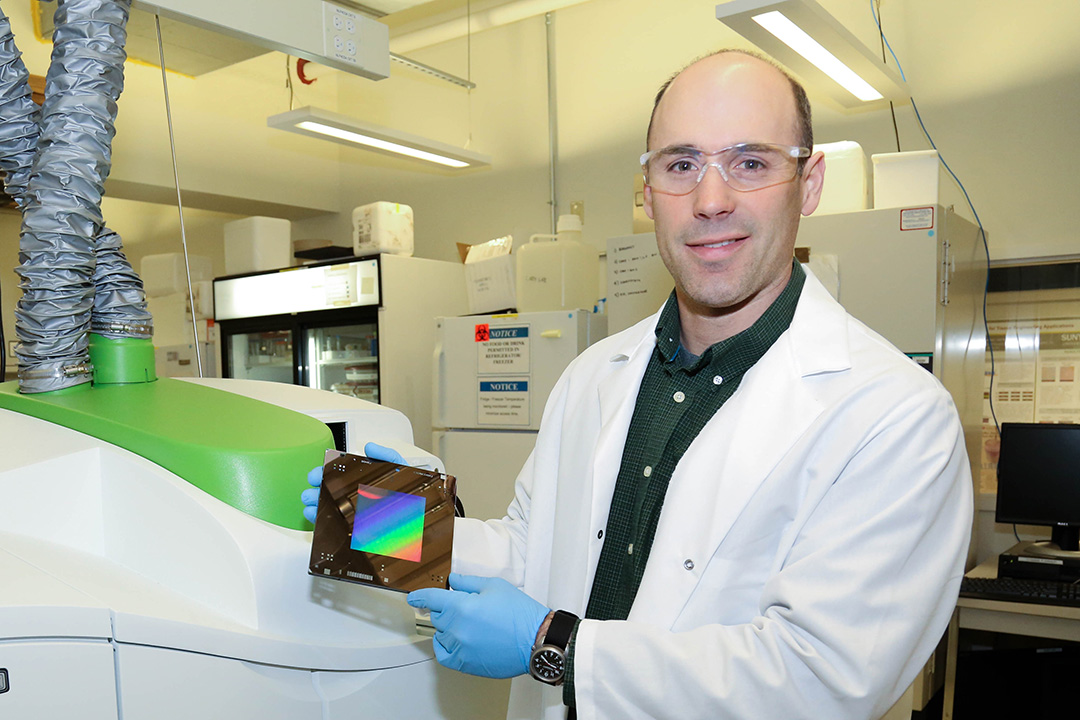 New Integrated Academic and Research Leadership

SUNY Poly has installed new integrated leadership for academics and research to continue and further advance the institute's experiential learning opportunities and world-class research efforts:
SUNY Poly Appoints Dr. Zora Thomova as Interim Provost
After extensive consultation with governance groups on both campuses, Acting President Tod Laursen asked Professor of Mathematics Zora Thomova to serve as Interim Provost of the Institute. Following this, Dr. Thomova accepted the offer to join SUNY Poly's leadership team as Interim Provost, effective May 16, 2022.
Dr. Thomova brings a depth of knowledge about SUNY Poly's unique academic offerings and has strong insight into the scholarly activities that take place across our campuses. Serving as an assistant professor beginning in 1998, she later became professor in 2011 and then Interim Dean of the College of Arts and Sciences from 2014 to 2016. She established the process for students to participate in SUNY-wide study abroad programs, leading the initiative since 2017 as the Director of Global Programs. Dr. Thomova also served on and chaired numerous committees and was a co-chair of the SUNY Poly Governance Council. Her scholarship in mathematical physics is published in international journals and she co-organized several conferences. She received the Chancellor's Award for Excellence in Faculty Service in 2021 and the Chancellor's Award for Excellence in Teaching in 2007.
As Interim Provost, she is responsible for overseeing academic affairs across SUNY Poly, to include scholarship, accreditation, assessment, distance learning, institutional research, the library, registrar, and student success.
SUNY Poly Appoints Dr. Nathaniel Cady as Interim Vice President of Research
After significant consultation with faculty and staff on both campuses, Acting President Tod Laursen asked SUNY Poly Empire Innovation Professor of Nanobioscience and Executive Director of the SUNY Applied Materials Research Institute (SAMRI) Dr. Nathaniel Cady to serve as SUNY Poly's Interim Vice President of Research, effective May 16, 2022.
Dr. Cady has a successful history of spearheading top-tier research efforts, especially those related to SUNY Poly's partnership with Applied Materials and in the areas of neuromorphic computing, among other innovative nanobioscience-focused initiatives. As Interim Vice President of Research, Dr. Cady leads the advancement of SUNY Poly's world-class academic-centered research mission, supporting and enabling R&D opportunities for faculty and researchers across both campuses. He will continue to cultivate the research infrastructure and leverage further opportunities that stimulate growth and opportunity for SUNY Poly faculty.
Dr. Cady's new role is fostering a fresh look at the research enterprise and the upgrading of the infrastructure supporting it on both campuses, which are both key priorities at this time in SUNY Poly's history.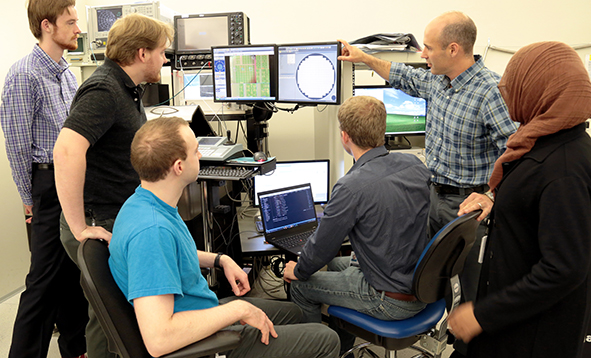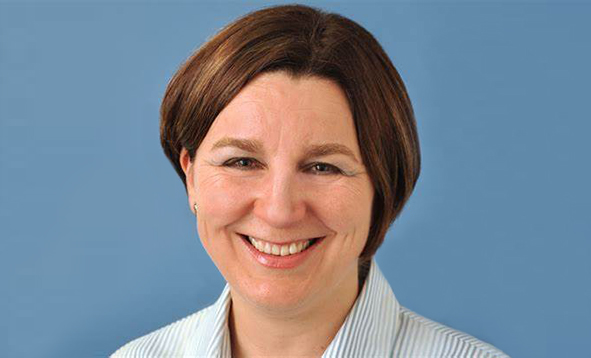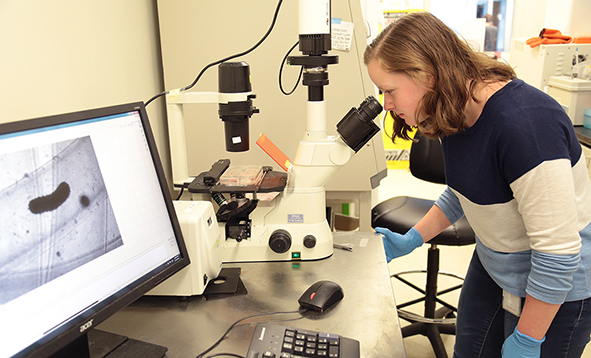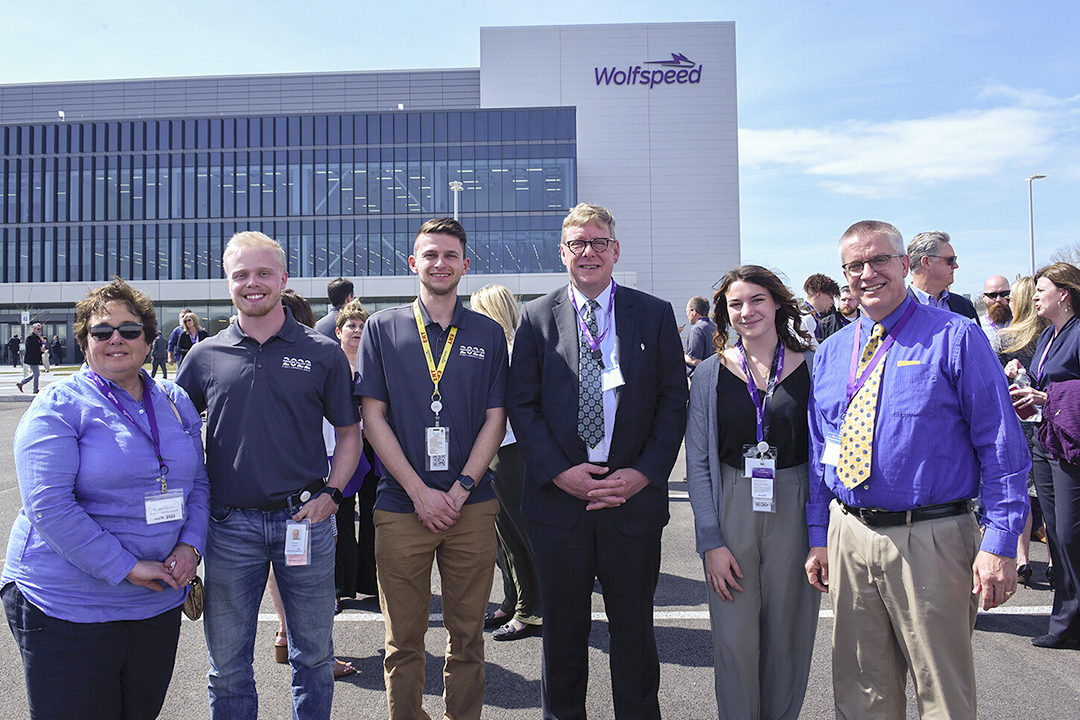 On the Rise: Rankings

Rankings
SUNY Poly Receives Strong 2022 College Rankings by U.S. News & World Report
SUNY Poly's year-over-year rankings by U.S. News & World Report continue to remain strong in the Regional Universities-North category:
2nd in "Top Public Schools"
12th in "Best Regional Universities-North"
Top 50 "Best Value Colleges"
Top 20 in "Social Mobility"
4th for "Best Colleges for Veterans"
Additional Rankings: SUNY Poly Overall
MBA
Cybersecurity
Nursing
Accounting
On the Rise
SUNY Poly Graduates 724 Students
SUNY Poly graduated 724 students in the 2021-2022 reporting year, including 265 from the College of Engineering, 103 from the College of Arts & Sciences, 169 from the College of Business, 158 from the College of Health Sciences, and 29 from the College of Nanoscale Science and Engineering.
Top Three Degrees 2021-2022 By Number of Students
64
Family Nurse Practitioner
58
Computer and Information Science (undergraduate and graduate)
51
Accountancy
SUNY Poly Partnerships Pave the Way for Innovation and Educational Opportunities
SUNY Poly joined Wolfspeed (formerly Cree, Inc. (Nasdaq: CREE)) at the Marcy Nanocenter on SUNY Poly's Utica campus in April as they officially cut the ribbon on their "Mohawk Valley Fab." It is the world's largest Silicon Carbide fabrication facility and will be automotive-qualified and 200mm-capable. There, Wolfspeed is expected to provide hundreds of jobs. In partnership with Wolfspeed, SUNY Poly is focused on preparing our students for these opportunities through:
Targeted, semiconductor-centered curricula and new high-tech equipment provided by Wolfspeed via the $250,000 Wolfspeed Curriculum Gift; and
Uplifting traditionally underserved students through scholarship opportunities from Wolfspeed's $2,000,000 scholarship program over 10 years.
SUNY Poly and Wolfspeed have also collaboratively established the Dr. John Edmond and Dr. John Palmour SUNY Polytechnic Institute Endowed Faculty Chairs, made possible by $1,500,000 in funding from Wolfspeed.
SUNY Poly Receives Largest Individual Donor Gifts in its History
SUNY Poly Foundation is receiving a total of $2,050,000 from the late Francis A. Wilcox—the largest individual donor contributions in the institution's history. Mr. Wilcox's nephew, Kevin Keehle, with wife Sue Keehle, realized the opportunities before them to make a powerful difference in the lives of SUNY Poly's students when they visited the Utica campus and learned more about the institution's top-tier engineering programs.
One gift of $1 million will support undergraduate student scholarships, and another gift of $900,000 will support the renovation of four electrical and computer engineering/engineering technology laboratories and the purchase of new, state-of-the-art equipment.
The "Francis A. Wilcox Scholarship" will provide critical financial support to SUNY Poly students who demonstrate merit and/or financial need, especially, but not limited to, those enrolled in the College of Engineering. The gift supporting the renovation of engineering laboratories with new, related resources will seek to provide the hundreds of students who take required and elective electrical engineering and engineering technology courses each year with a robust, advanced education that will translate their training into practical industry opportunities.
In addition, the second floor of Kunsela Hall will be named the "Francis A. Wilcox Engineering and Technology Wing," in memory of the late Mr. Wilcox who lived in East Utica his entire life and desired to make an impactful mark on the lives of students.
Kevin and Sue Keehle also provided an additional, more recent gift on behalf of the Francis A. Wilcox Trust in the amount of $150,000 to the SUNY Poly Foundation to renovate the Physics Lab located in Donovan Hall, which will now be known as the "Francis A. Wilcox Physics Lab."
SUNY Poly's Opportunities for Students to Transfer Celebrated
Phi Theta Kappa recognized SUNY Poly as one of only 171 colleges and universities in the country to be named to its 2022 Transfer Honor Roll for exemplary transfer pathways. This recognition is determined by 40 key metrics related to the support and success of transfer students.
SUNY Poly Looks Toward Opportunities with "Innovare Advancement Center"
SUNY Poly maintains its partnership with Oneida County, the Air Force Research Laboratory and Griffiss Institute after the launch of the $12+ million Open Innovation Campus research center, now Innovare Advancement Center. Collaborations continued related to the research and development of next-generation Quantum Information Science, AI/ML, neuromorphic computing, and cyber efforts.
SUNY Poly Joins Regional Research Hub Led by Cornell
SUNY Poly joined globally recognized academic institutions and semiconductor and tech organizations as part of a new regional research hub funded by AFRL and led by Cornell University. Initial partners of this Mid-Atlantic AFRL Regional Hub include Princeton University, Binghamton University, SUNY Poly, the U.S. Department of Energy's Brookhaven National Laboratory, and the Griffiss Institute's Innovare Advancement Center, as well as corporate partners such as GE Research, IBM, Google, Microsoft, Corning, and Amazon.
SUNY Poly Continues Building Academic Partnerships
Fulton-Montgomery Community College (FMCC) President Greg Truckenmiller and SUNY Poly Acting President Dr. Tod A. Laursen signed eight transfer articulation agreements which allow FMCC graduates to seamlessly transfer to SUNY Poly for majors ranging from Computer and Information Science to Health Information Management, Business Administration, or Electrical Engineering.
The Oneida-Herkimer-Madison BOCES Pathways in Technology Early College High School (P-TECH) program announced with SUNY Poly a new articulation agreement that allows P-TECH graduates to continue their education here and seamlessly earn a bachelor's degree in programs ranging from Business Administration or Computer Science: Cybersecurity, to Electrical Engineering Technology—and more.
SUNY Poly and the University at Albany entered into an agreement allowing undergraduate and graduate students of each institution to easily take courses at the other as visiting students.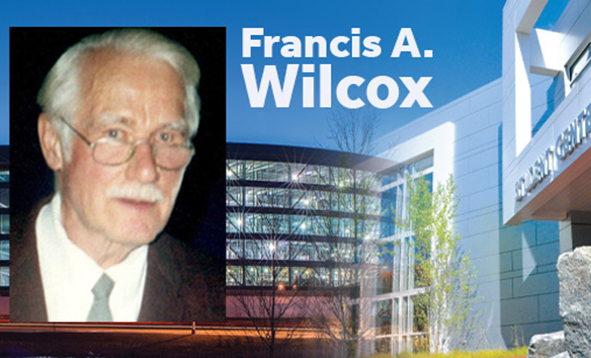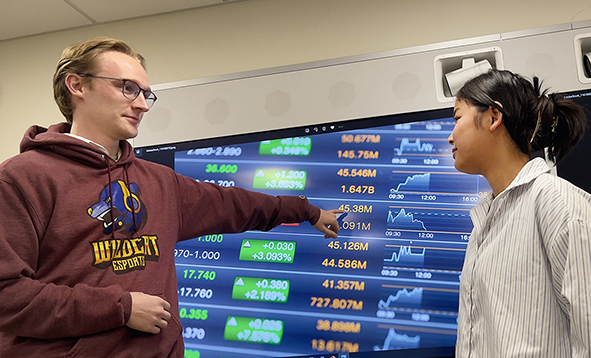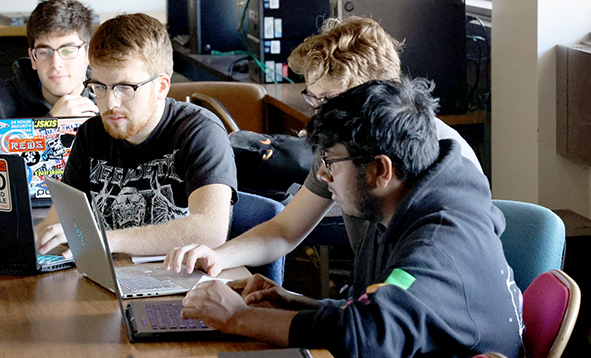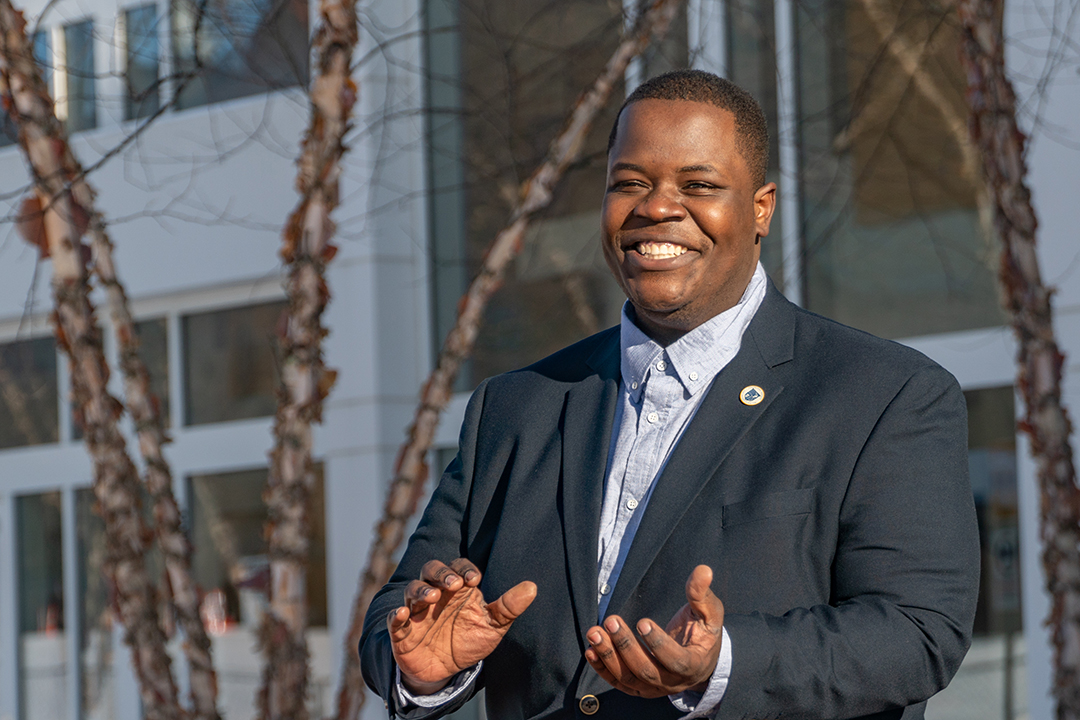 Faculty, Students + Staff Excellence Continues

SUNY Poly Faculty, Staff, and Students Receive SUNY'S Highest Honor—Six Recognized with 2022 Chancellor's Awards for Excellence
SUNY Poly proudly announced four members of its faculty and staff and two students received Chancellor's Awards for Excellence from the State University of New York in 2022. Through these awards, SUNY publicly proclaims its pride in the accomplishments and personal dedication of its instructional faculty and professional staff across its campuses. SUNY Poly's Chancellor's Award recipients include:
Chancellor's Award for Student Excellence: McKenzie Albrecht, Garrett Hassard
Chancellor's Award for Excellence in Professional Service: Paul Kutscha
Chancellor's Award for Excellence in Teaching: Dr. Carolyn Rodak
Chancellor's Award for Excellence in Scholarship and Creative Activities: Dr. Andrew C. Gallup
Chancellor's Award for Excellence in Classified Service: Sandra Hrynio
SUNY Poly Students Serve as EOP Student Ambassadors
Two SUNY Poly students, Raj Bala Chaudhary and Giovanni Harvey, were among 21 others from across SUNY campuses selected to serve as the inaugural class of EOP Student Ambassadors.
Supporting Students Who Remain for Thanksgiving
Members of the Residential Life Team and CDO Mark Montgomery and his wife, Lisa, celebrated a traditional Thanksgiving meal with students who did not return home for the holiday.
On Point for College, SUNY Poly Partnership Uplifting Students Featured in Washington Post
The Washington Post featured SUNY Poly student, SUNY EOP Ambassador, and former SGU President Giovanni Harvey in: 'When a sudden, small expense threatens an entire college career.' The article, seen by as many as 59 million readers, showcased the difference On Point for College and similar organizations make in students' lives. This in turn empowers students like Giovanni to make a positive impact on campus. On Point serves students here and in a number of surrounding counties by providing access, helping them to stay in college, as well as offering career services. Overall, On Point serves students at more than 200 colleges and universities and has helped over 11,000 lower-income, first-generation students enroll in college, including hundreds at SUNY Poly to-date.
SUNY Poly Graduate Student Emma Rocco Featured in NYS Department of Labor Careers Video
Ph.D. candidate in nanoscale engineering and research assistant Emma Rocco is just one example of how SUNY Poly provides a powerful platform for academic and research achievement. We worked with the New York State Department of Labor, which produced a series of inspiring videos highlighting career opportunities across New York. This video showcases how Emma defied her grade school teachers who had told her she should not pursue a career in STEM—and found success at SUNY Poly.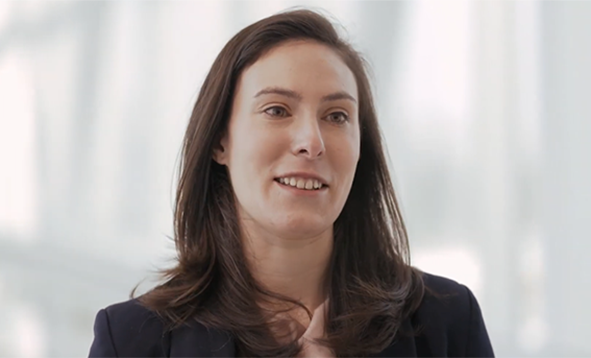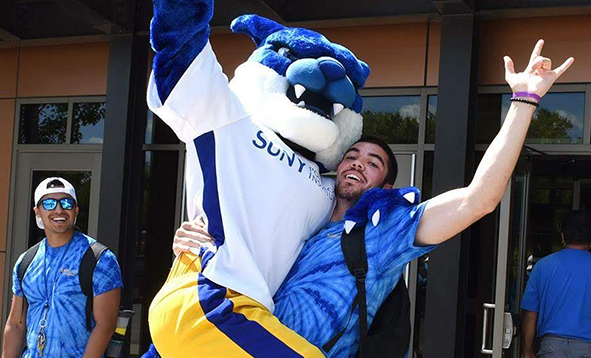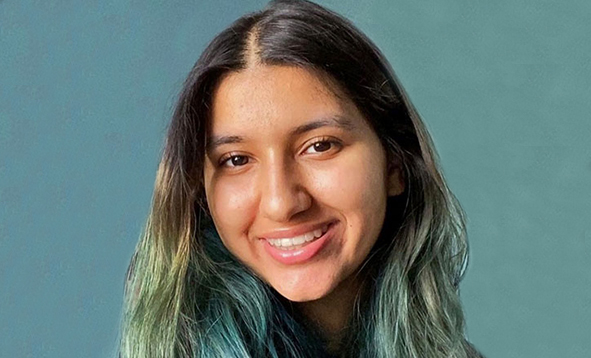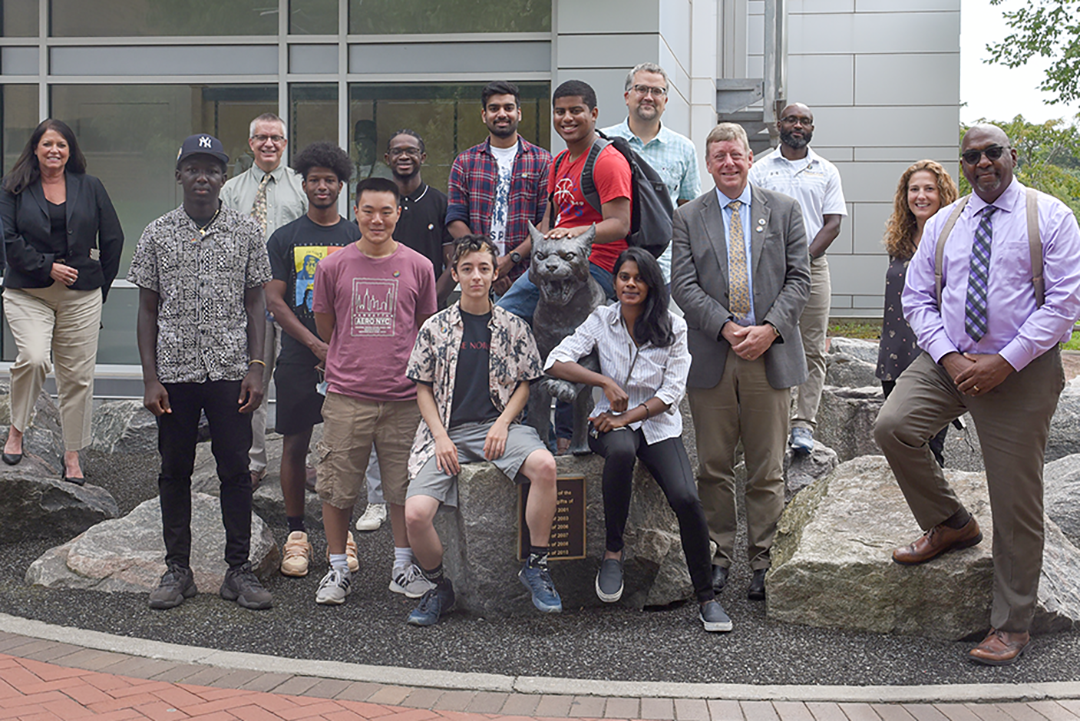 Advancing Diversity Wildcat Community Efforts

Diversity, equity, and inclusion have always been critical. SUNY Poly has even more deeply committed to focusing on these important areas. Please see below for several highlights that focus on progress through action.
DEI as Part of SUNY Poly's DNA
Chief Diversity Officer, Dr. Mark Montgomery, has been busy developing programming across our campuses for a sustained approach to DEI. He has hosted book discussions centered around diversity issues, workshops, and in-person and virtual individual and campus-wide conversations.
The CDO also collaborated with Residential Life to explore outreach and campus collaboration with local students of color and provided programming, such as a presentation featuring Jason Benitez, which shared the importance of cultural appropriation awareness.
Dr. Montgomery is also teaching a section of First Year Seminar, reaching every 1st year student entering SUNY Poly, reinforcing SUNY Poly's commitment to DEI and positively contributing to student connectivity and overall retention.
The CDO started a program called "The Conversation," whereby he interviews members of the campus communities and provides them an opportunity to "share their lens." Also known as "getting to know us," it provides a humanized and inclusive sharing of perspectives from those who are part of SUNY Poly.
During the 2021-2022 academic year, the CDO demonstrated SUNY Poly's active and strong commitment to DEI in several key areas by
keeping in contact with local schools in order to provide connectivity, awareness, and hope to students who otherwise are not exposed to people of color in higher education;
speaking at local on- and off-campus events;
acting as a resource for many local secondary school districts;
contributing as a member of the Genesis Group Education Committee;
acting as a resource for Oneida County in relation to law enforcement, youth outreach, substance abuse and educational realms, serving on the Ican board of directors; and
being an active liaison between the Utica City School district's Career and Technological Education (CTE) project and SUNY Poly which aims to link STEM and other student related areas to the institution.
DEI Advisory Committee
SUNY Poly announced the establishment of the newly formed DEI Advisory Committee, featuring a diverse cohort of 20 individuals, including the Chair, Chief Diversity Officer Dr. Mark Montgomery, with faculty, staff, and students from both campuses. It is tasked with further facilitating equity and inclusion by way of tangible efforts in education, institutional change, and modeling of our core values.
Community Action
SUNY Poly professor Ronni Tichenor has been involved with sharing policing and public safety findings at a series of "Police Reform in the Mohawk Valley" forums.
In addition, the CDO is also representing SUNY Poly as a member of a newly formed Mohawk Valley Community Action Association Diversity, Equity, & Inclusion Committee. This committee is a collaboration of colleges, local community leaders, and businesses with the purpose of giving a "voice to those traditionally marginalized by the American society."
SUNY Poly Continues to Support ProdiG Effort to Increase Diversity among Faculty and Students
SUNY Poly supports SUNY's recruitment of diverse faculty through the PRODiG (Promoting Recruitment, Opportunity, Diversity, Inclusion, and Growth) initiative, which aims to increase the representation of historically underrepresented faculty at SUNY. SUNY Poly has:
Developed committees tasked with increasing diversity among faculty and students; and
Developed several goals and recommendations.
More information about this program can be found here: https://www.suny.edu/prodig/.
The Office of the Chief Diversity Officer works closely with Human Resources as the cornerstone of retention, recruitment, and satisfaction of many stakeholders. While this process is ongoing, for 2022, HR has been pivotal in guiding the CDO in relation to search committees, interviews, and assisting with the on-boarding of faculty and staff. In the recent year, Dr. Montgomery has been an active participant in more than one dozen searches. This culture-altering contribution continues to bear fruit as it evidences institutional commitment to DEI and subsequent outcomes.
SUNY Poly's Grassroots "You Belong" Uplifts our Community
You Belong, comprised of student, staff, and faculty volunteers passionate about increasing awareness and creating change around issues of diversity, equity, and inclusion on campus has offered numerous programs surrounding topics designed to cultivate learning and allow everyone to feel included and welcome to share their voices.
Affirmative Action to Inform Recruitment Strategies
SUNY Poly's Affirmative Action Plan guides the institution's recruitment strategies. Efforts include training search committees on implicit bias and making recommendations to committees. Additionally, SUNY Poly is ensuring diversity for its search committees and looks at ways to diversify advertising and recruiting in order to gain more diverse applicant pools.
Additional Outreach and Support for All: 'Poly Pantry' Continues to Serve Wildcat Community
SUNY Poly's campus-based food pantry has provided hundreds of students, faculty, and staff of all backgrounds with food and toiletries. The pantry is supported through donations from, and the kindness of, the campus community and other partners like SUNY, Wal-Mart Distribution Center, Bargain Grocer, Swipe Out Hunger, and Chobani. "Poly Pantry" is part of an initiative to help provide SUNY/CUNY students with "stigma-free access" to a food pantry.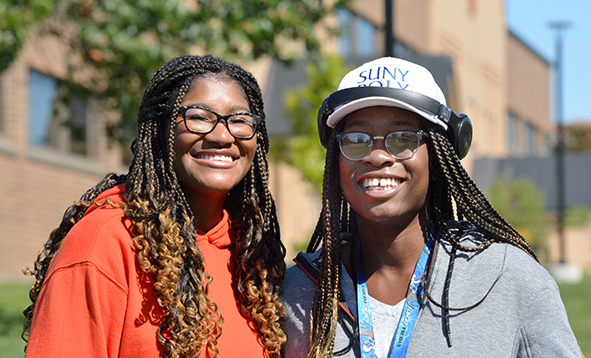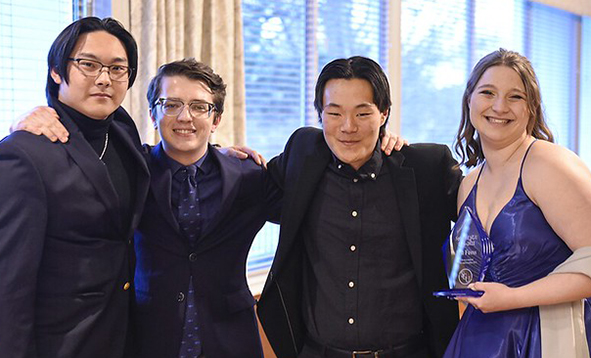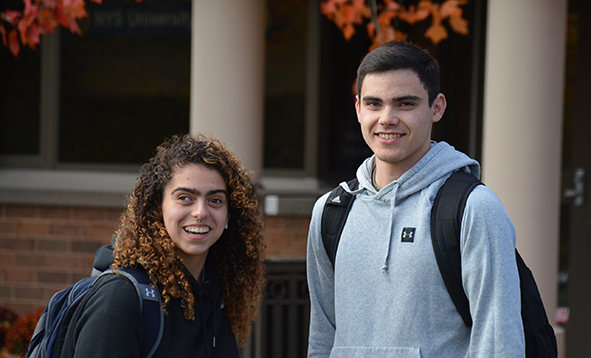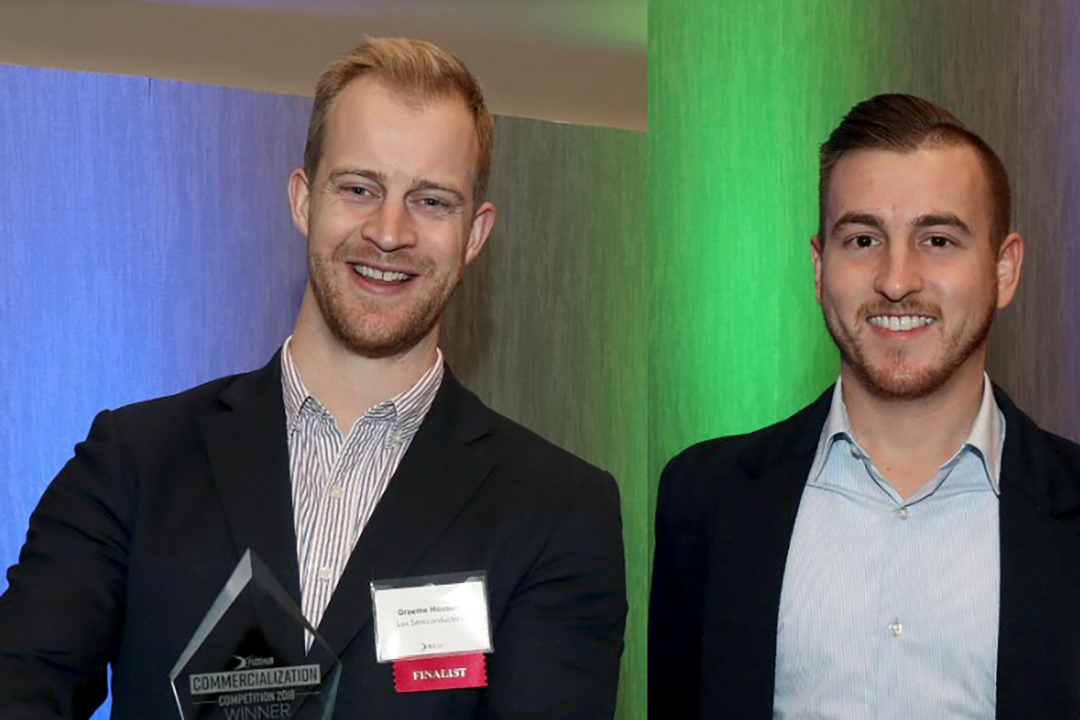 Alumni Achievements

SUNY Poly alumnus donates trailer to support Baja Club travel to competitions and events
The SUNY Poly Baja Club designs, builds, and races robust, off-road vehicles each year. Also known as the SUNY Poly Baja SAE Wildcat Motorsports Team, the club offers a hands-on learning experience for students that not only provides them with engineering skills, but also culminates in fun at competitions and events. Curtis Jackson '16, a former Baja Club member, reached out to the club with a solution for getting the Baja cars where they need to be, donating a 20′ aluminum snowmobile trailer. It's insulated and comes with a helmet rack, loading lights, 110-volt wiring, wall tie-down rails, and more.
SUNY Poly alumni spinoff Lux Semiconductors awarded $1.7M by U.S. Space Force
Lux Semiconductors, a SUNY Poly spinoff co-founded by Shane McMahon and Graeme Housser while they were earning their Ph.D.s, has been awarded a $1.7 million Phase II SBIR contract by the U.S. Space Force to develop radiation-tolerant microelectronics to support next-generation space missions. Lux Semiconductors has also been preparing for commercialization at the Albany NanoTech Complex.
Team of SUNY Poly Alumni Find Career Opportunities Together at NYPA
When Jason Nasto found a career as an Instrument and Control Supervisor at the New York Power Authority (NYPA), he soon decided to finish an Electrical Engineering Technology degree from SUNY Poly, graduating in 2019. But to make sure such important work gets accomplished, he can't do it alone. He needs a team of highly qualified individuals working together and supporting each other. It turns out, seven out of nine on that NYPA team are SUNY Poly graduates. Most of them graduated recently with a similar degree in Electrical Engineering Technology (EET) and are now I&C planners, I&C engineers, or technicians. They all say the main ingredient in their success has been their SUNY Poly educational experience, and they were excited to share a few thoughts.
SUNY Poly Student Gio Harvey and Alumna Kay Parker Host On Point for College Utica Celebration 2021
SUNY Poly student Gio Harvey and Alumna Kay Parker, now a Quality Applications Specialist at Indium Corp., hosted On Point for College's Utica Celebration 2021, which begins at the video link below at 15:00. Gio Harvey's profile video starts at 16:00; Kay Parker's profile video starts around 17:50. View the Video.
Abbas Kazan, '19, selected as ASCE "2022 New Faces of Civil Engineering" for helping home communities near and far
Abbas was highlighted by ASCE for using his expertise to improve the lives of those who live where he grew up, while he also gave back to Upstate New York where he has since lived. Learn more.
Lafa Owner and Alumnus Elias Zeina' 17 G'19 Gives Back to Alma Mater during Day of Giving
Throughout April 14, 2022, Lafa Owner and SUNY Poly alumnus Elias Zeina '17, '19 supported SUNY Poly Foundation's Day of Giving with a fundraiser at Lafa Mediterranean by Zeina's. Each customer had the opportunity throughout the day to have 20% of their bill applied to SUNY Poly's Day of Giving.
SUNY Poly Graduate Featured in Observer-Dispatch: 'College graduates benefitting from job market that's hiring, hiring, hiring'
The Observer-Dispatch shared the story of Thais Vacaflores, a 2021 graduate of SUNY Poly who went straight from college into graduate school and then into a job before she finished her graduate degree. "After graduation, Vacaflores, a Bolivian native who moved to New York City with her family six years ago, got a business systems internship at Wolfspeed on the SUNY Poly campus. Wolfspeed called again in December, and Vacaflores started a full-time job as a human resources analyst in June. Her coursework is done, but she'll finish her master's project in computer information science while working."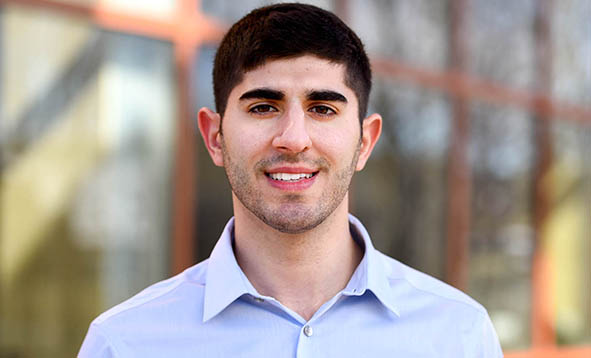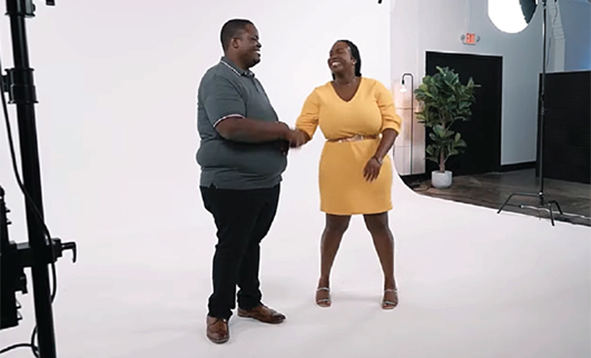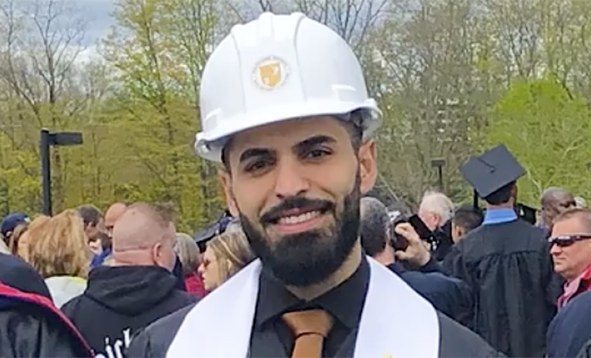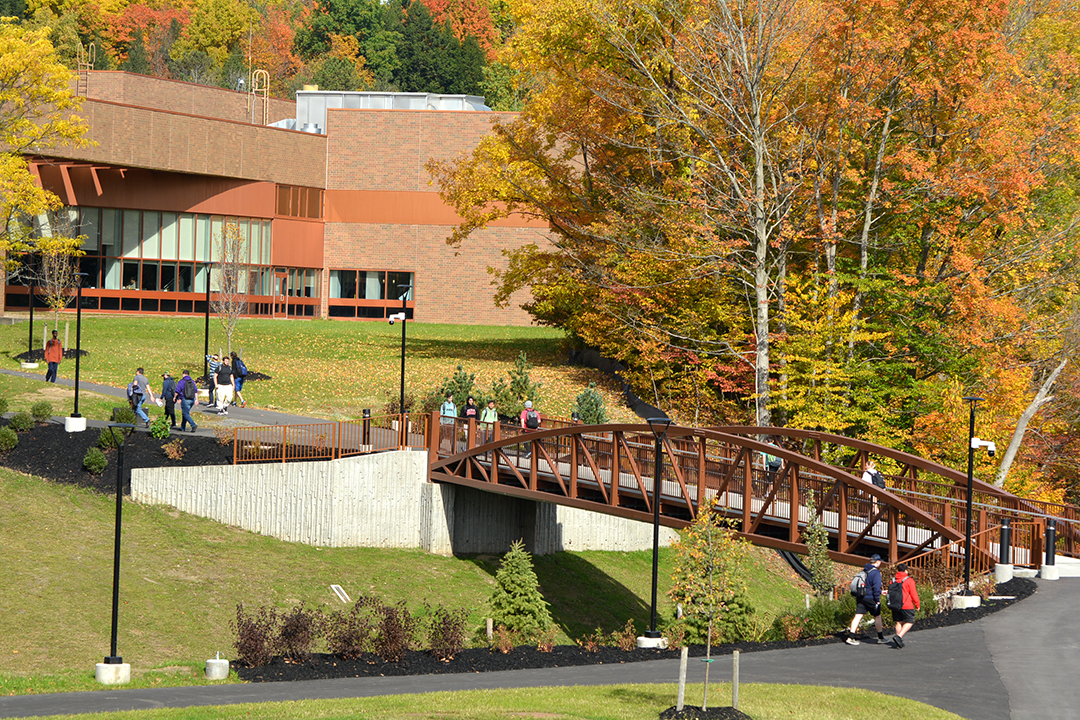 Infrastructure Improvements

The Facilities Department at SUNY Poly is responsible for the protection, operation, preservation, maintenance, and construction for over 910,000 square feet of building area and nearly 500 acres of landscape, athletic facilities, roadways, sidewalks, and parking lots at SUNY Poly's Utica campus. This is achieved with a dedicated staff of more than 50 employees. Each year, the Facilities department responds to thousands of work orders requested by campus residents, faculty, and staff for repairs and installations. They also provide for the set up and take down of equipment for campus events, deliver the campus mail, and distribute packages to students and staff.
The Facilities Department is also responsible for major and minor construction projects on the SUNY Poly campus, highlighted below, with current projects totaling more than $58M. The department plans, designs, and constructs capital projects to maintain and preserve the physical plant, address environmental concerns, and meet the changing pedagogies of higher education.
Capital Projects
Campus Center Renovations ($37 million)
This Utica campus-based project, currently in design, will provide renovations and conversion of an old pool area to create classrooms that can later be converted to meeting rooms and offices as an effective way to provide learning space in the near term and to facilitate renovations elsewhere on campus. A new, centrally located residential life suite, renovated athletic locker rooms, offices, and meeting spaces for coaches and athletes are also planned. In addition, a renovated lobby area will create a welcoming atmosphere for students and visitors, as well as greatly improve circulation and ADA accessibility. The project will reduce carbon emissions with the removal of existing natural gas boilers and installation of geothermal systems for cooling and heating the building.
Wildcat Pedestrian Bridge Replacement Project ($2.1 million)
The construction of a new Wildcat Pedestrian bridge at the Utica campus began in Spring 2021 and is scheduled for substantial completion in Fall 2022. The project installed a new steel truss bridge to replace an aging wood glue-laminate bridge. Also addressed in this project were the installation of new fiber runs to Adirondack Hall and the Campus Center to strengthen our network redundancy. A new seating area overlooking the stream corridor has now been placed at the location of the old bridge abutment. With the installation of this new bridge, the visual corridor between academic buildings and the Campus Center has been enhanced.
Reconstruct Technology Drive ($2 million)
Approximately 3,700 feet of Technology Drive, spanning from the Marcy Parkway to Seymour Road, will be reconstructed for this project. Included in the work is the replacement of street lighting with new high-efficiency LED street lights, new drainage structures, ADA crosswalks, and new pedestrian sidewalks.
Renovate Kunsela and Donovan Halls for STEM ($17.5-million)
This project is to provide partial interior renovations in Kunsela and Donovan Halls to update and enhance instructional, laboratory, and support spaces for growing STEM programs at SUNY Poly's Utica campus. The enhancements are targeted to highlight the laboratory and STEM spaces with the promotion of natural light and added interior storefront windows. The project will renovate approximately 27,000 square feet in Kunsela Hall and approximately 18,000 square feet in Donovan Hall and will include renovations to dated restrooms and a new fire sprinkler system in Kunsela Hall C-Wing.
Due to the largest donation ever received from a single donor in SUNY Poly's history, from the family of the late Francis A. Wilcox, SUNY Poly is moving forward with planning for the installation of new floors, ceilings, walls, and the installation of high efficiency LED lighting, as well as new lab equipment and more, in several Kunsela Hall laboratories located in the "Francis A. Wilcox Engineering and Technology Wing." By receiving SUNY Capital Matching funding, the generous Wilcox donation of $900,000 could turn into an additional $1.8M to support everything from a new art studio to an upgraded chemistry lab, new space for the Interactive Media + Game Design (IMGD) program, as well as a semiconductor processing lab in the Center for Global Advanced Manufacturing (CGAM) and STEM Communications Center.
SUNY Poly's Albany campus: Focused on education, research, development, and deployment of nanoelectronics and nanotechnology-based innovations, SUNY Poly's Albany campus is located at the 1.65 million-square-foot Albany NanoTech Complex, home to billions in high-tech investments and many industry-leading partners with on-site operations. This includes IBM, Tokyo Electron, Samsung, and Applied Materials, among others. The Albany NanoTech Complex also has 136,000 square feet of cleanroom space for next-generation computer chip R&D and manufacturing, including a state-of-the-art 300mm silicon wafer fabrication facility.
NY CREATES Issues Request for Proposals for Project to Expand Albany NanoTech Complex
SUNY Poly is acting as the lead agency for SEQR (New York's State Environmental Quality Review Act process) in cooperation with NY CREATES, as part of the process leading to the eventual opening of the new fab, "NanoFab Reflection." This initiative will expand the Albany Nanotech Complex to enable new and current partners to grow operations in New York State and further advance the state-of-the-art research and development, education, and technology commercialization taking place at the Complex.