Innovative Research and Economic Engagement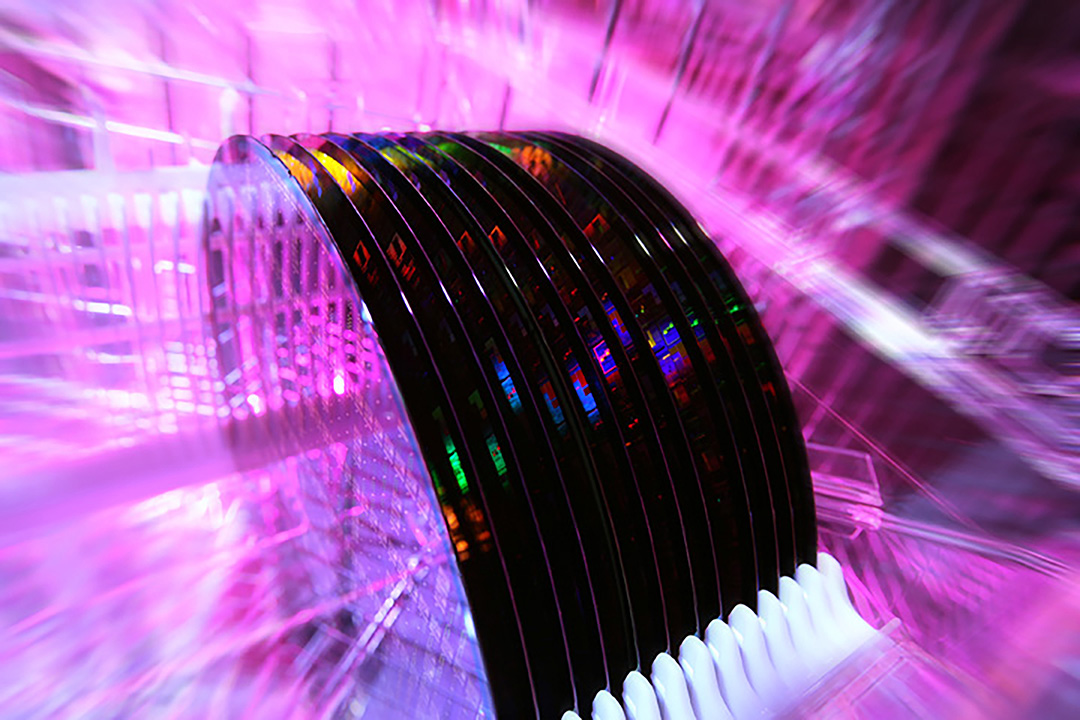 Research Highlights

Interim Dean of the College of Health Sciences Dr. Joanne Joseph and Dr. Veronica Tichenor, SUNY Poly Professor of Sociology, received $750,000 to support K-12 mental health services for children and families in Herkimer County.
SUNY Poly Professor of Nanoscale Engineering Dr. Gregory Denbeaux and Professor of Nanobioscience Dr. Robert Brainard with several students earned $250,000 from the Semiconductor Research Corporation to improve the uniformity of photoresists.
SUNY Poly Professor of Nanoengineering Dr. Harry Efstathiadis; Associate Professor of Engineering Dr. Iulian Gherasoiu; and Adjunct Professor of Nanoengineering Dr. Devendra Sadana received $246,000 from NYSERDA to provide hands-on energy storage and grid modernization training.
Faculty-led research projects focused on New York State's response to the pandemic earned a total of $360,000 in funding from three companies with operations in New York State, including one start-up launched by a faculty member. The funding was part of the Matching Investment Program by the NYS Center for Advanced Technology in Nanomaterials and Nanoelectronics (CATN2).
Dr. Denbeaux, with three students, received $50k from the National Science Foundation to develop a new approach for 3D printing of pure alloys.
The Los Angeles Review of Books and Wall Street Journal highlighted College of Arts & Sciences Dean Andrew Russell's collaborative book on the importance of maintenance.
Cold-formed steel research by SUNY Poly Assistant Professor of Civil Engineering Dr. Zhanjie Li and undergraduate student Damir Akchurin were published by the American Iron and Steel Institute.
SUNY Poly Assistant Professor in Applied Mathematics Dr. Carlo Cafaro continued to build upon SUNY Poly's partnership with the Air Force Research Laboratory-Information Directorate to advance quantum physics research, with a collaborative publication in Physical Review A, among others.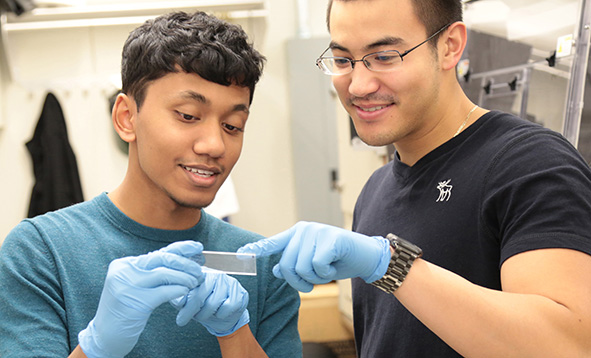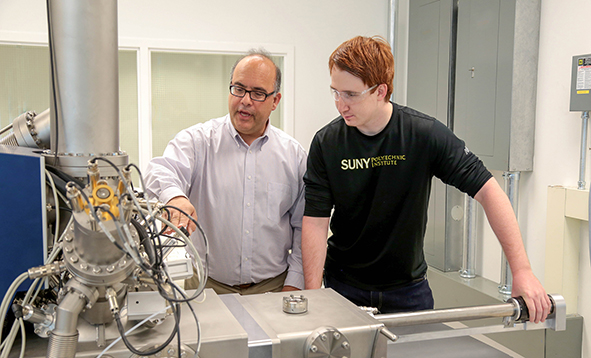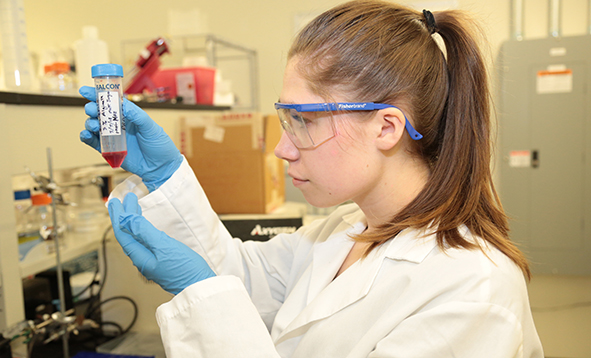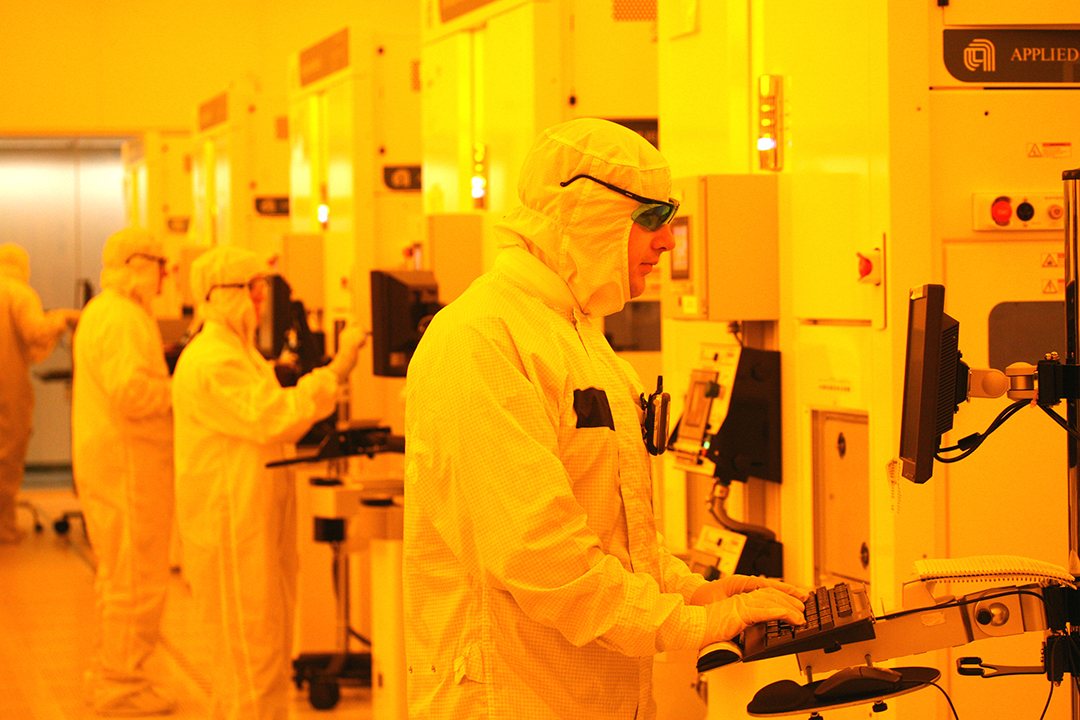 Research Partnership Highlights

IBM – AI Hardware Center
In 2019, it was announced that IBM, a long-time anchor tenant at the Albany NanoTech Complex, plans to invest over $2 billion to grow its high-tech footprint at the site and throughout New York State. This includes the establishment of an "AI Hardware Center" for artificial intelligence-focused computer chip research, development, prototyping, testing, and simulation. The AI Hardware Center will be the nucleus of a new ecosystem of research and commercial partners and further solidify the Capital Region's position as a global hub for innovative R&D.
Additionally, IBM announced its researchers developed the world's most advanced computer chip in the world inside the cleanrooms at the Albany NanoTech Complex, with transistors only 2 nanometers in width, enabling a computer chip the size of a fingernail to consist of up to 50 billion transistors for improved performance, power, and economy.
One SUNY Poly undergraduate TEL Technology Center, America, LLC intern ran specific processes and altered parameters within the process recipe to assist.
Applied Materials – Materials Engineering Technology Accelerator (META Center)
Applied Materials Inc. is partnering with New York State to establish the Materials Engineering Technology Accelerator (META Center) at the Albany NanoTech Complex. ESD is providing a five-year, $250 million capital grant for the Research Foundation for SUNY to purchase and install tools in an advanced research and development facility that will further position the Capital Region to be a global materials engineering research hub. Applied Materials will bring in $600 million in investments through the META Center. Additional high-tech partners are also expected to locate at the META Center.
Wolfspeed Marcy Nanocenter Fabrication Facility—and a Commitment to Opportunities
Wolfspeed (formerly Cree), a global leader in silicon carbide technology, is investing $1 billion over six years to construct and equip a new, state-of-the-art, highly automated, 200 mm silicon carbide wafer fabrication facility. This public-private partnership will provide 430 million dollars in research and development and plans to create 600 full-time highly skilled technician and engineering positions at the Marcy Nanocenter on SUNY Poly's Utica campus, which will provide internship and career opportunities for students and alumni.
Wolfspeed has also committed to a $2M scholarship program over ten years, with the first cohort of student awardees receiving a total of $46,000 in January 2021. This initiative is also complementary to the announcement of the Dr. John Edmond and Dr. John Palmour SUNY Polytechnic Institute Endowed Faculty Chairs. The five-year, $1,500,000 funding underpins the continued expansion of science, technology, engineering, and mathematics (STEM) opportunities for students at SUNY Poly.
Innovare Advancement Center – a SUNY, SUNY Poly, Griffiss Institute, Air Force Research Laboratory-Information Directorate Partnership
With Innovare Advancement Center having launched in fall 2020, it is emerging as a global catalyst to converge world-class talent with cutting-edge facilities and focused technology challenges to accelerate the development of game-changing capabilities that protect and empower our country. SUNY Poly is looking forward to additional ways to partner through this innovative collaboration, with faculty already engaged in research opportunities.