SUNY Poly 2020-2021 Highlights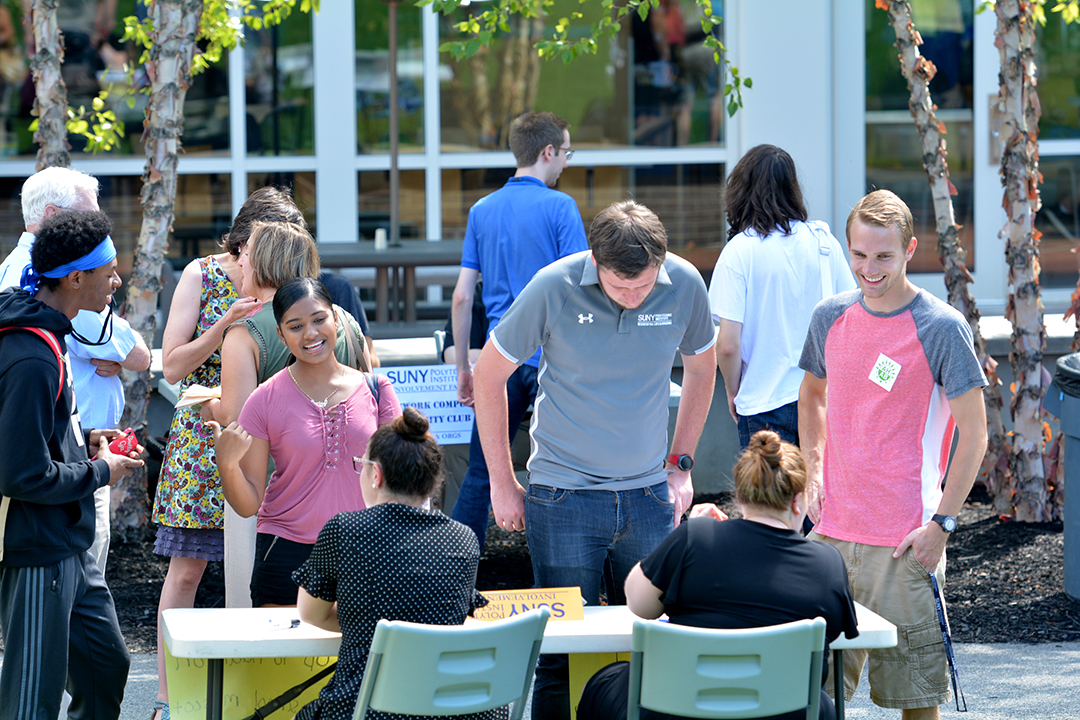 Mission | Vision | Values

Mission
SUNY Polytechnic Institute serves as an intellectually vibrant, creative, and stimulating environment for innovation, education, and outreach that prepares its students to apply basic and applied knowledge to challenges, complexities, and opportunities to advance our modern technological society. SUNY Poly:
Provides an affordable, comprehensive, and integrated range of undergraduate and graduate educational and research programs of the highest quality;
Provides students with a well-rounded education to prepare them as future leaders in a dynamic and diverse world by demonstrating the interconnectedness of knowledge and cultures and emphasizing the importance of continuous learning;
Engages in the formulation and dissemination of new discoveries, exciting innovations, stimulating research endeavors, and fundamental and applied knowledge through research and creative inquiry;
Fosters economic development and creates educational opportunities within New York, the nation, and beyond and promotes responsibility and commitment to public service; and
Serves as a leader for innovation throughout its educational program, from theoretical principles to practical applications.
Vision
SUNY Polytechnic Institute is a vibrant community engaged in the pursuit of scholarship, public service, and intellectual and creative endeavors. SUNY Poly is a premier polytechnic institution dedicated to improving society by advancing knowledge—and its application—and promoting entrepreneurship and economic development.
Values
Academic Excellence through intellectual achievement, collaboration, accomplishment in teaching, research, discovery, and scholarship, and innovative pedagogy both in the classroom and online;
Inclusiveness and Diversity through respect, accessibility, and actions to embrace difference, experience and thought;
Transformational Experience through student-centered curricula, strong co-curricular environment, and support of personal and professional growth;
Integrity by celebrating academic freedom, sustaining academic responsibility, and developing an ethical citizenry;
Civic Responsibility;
Student Success; and
Faculty, Staff, and Student Lifelong Relationships.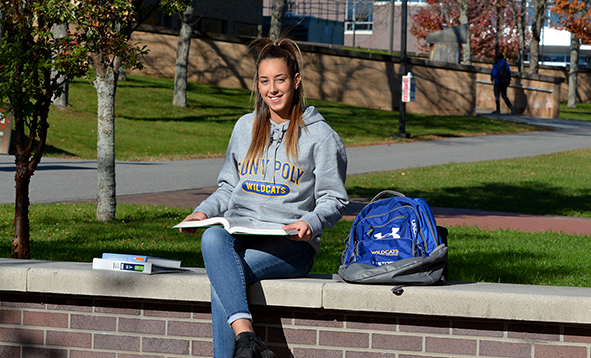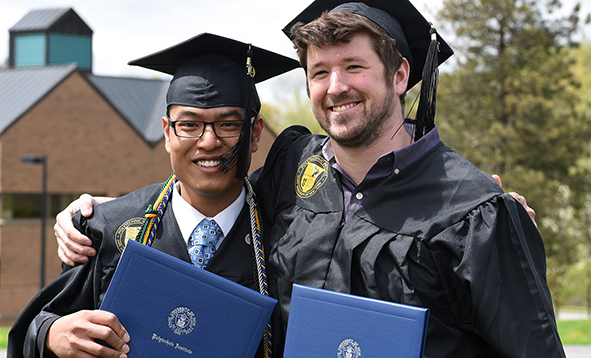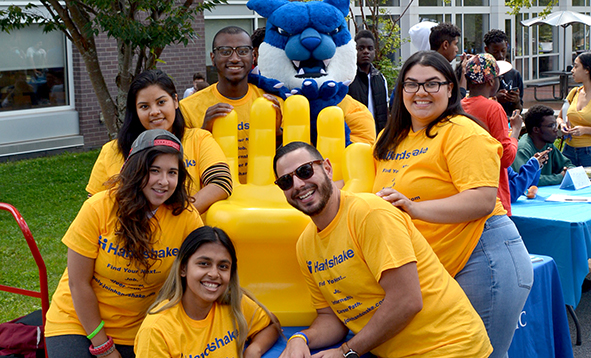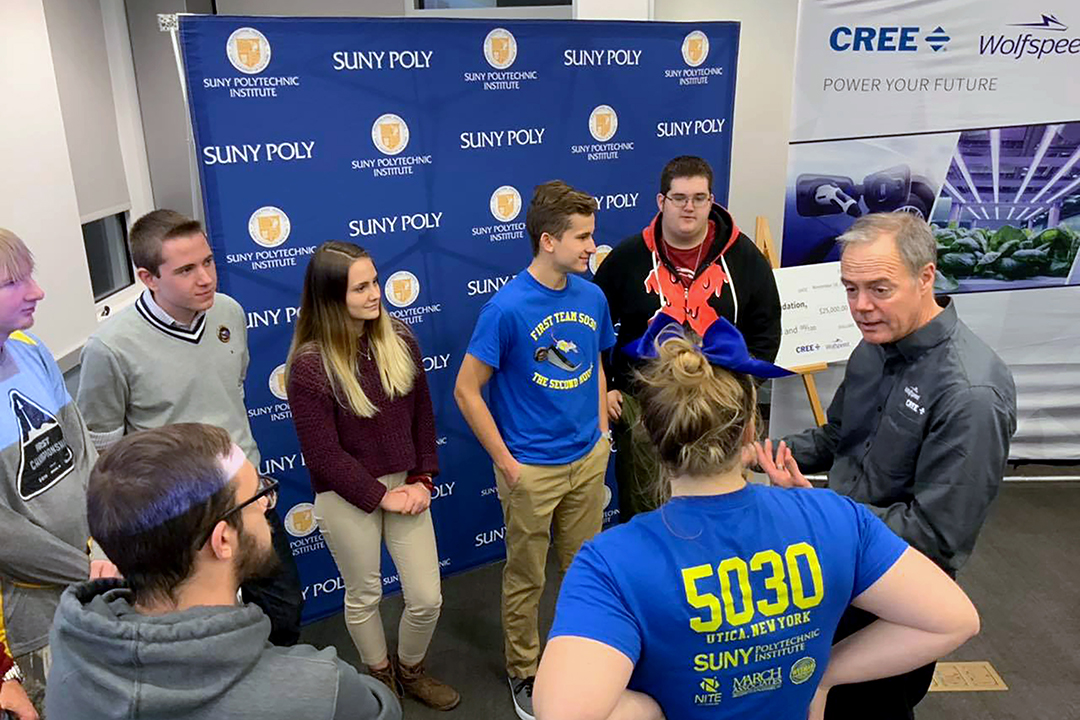 Poly on the Rise

On the Rise: Rankings
SUNY Poly Receives Strong 2021 College Rankings by U.S. News & World Report
SUNY Poly's year-over-year rankings by U.S. News & World Report continue to soar, having been ranked 2nd in "Top Public Schools" Regional Universities-North, 5th in "Best Value Colleges" for Regional Universities-North, and 12th in "Best Regional Universities-North." SUNY Poly ranked 5th for "Best Colleges for Veterans" in the same category, up one position from the previous year, and jumped 45 places to rank 10th in "Social Mobility," which recognizes colleges that advance this critical effort by successfully enrolling and graduating economically disadvantaged students.
Additionally, SUNY Poly's online Accountancy program (Non-MBA) ranked in the top half of listed institutions at 60th out of 164 colleges; its online MBA program (Technology Management) ranked in the top 30% of ranked institutions at 94th out of 295 colleges; and its online graduate Nursing (Nursing Education) program ranked 63rd out of 173 ranked college programs in 2021.
Additional Rankings: SUNY Poly Overall
Accounting
MBA
Cybersecurity
Civil Engineering
On the Rise
SUNY Board of Trustees Appoints Provost Dr. Tod Laursen as SUNY Poly Acting President
In December 2020, the SUNY Board of Trustees appointed SUNY Senior Vice Chancellor and Provost Tod A. Laursen as acting president for SUNY Polytechnic Institute. Dr. Laursen joined SUNY from Khalifa University (KU) in Abu Dhabi, United Arab Emirates, where he was the founding president and served as its leader since 2010. Learn more here.
SUNY Poly Graduates Nearly 900 Students
SUNY Poly graduated nearly 900 students in the 2020-2021 reporting year, including 321 from the College of Engineering, 148 from the College of Arts and Sciences, 190 from the College of Business, 181 from the College of Health Sciences, and 35 from the College of Nanoscale Science and Engineering.
Top Three Degrees 2020-2021 By Number of Students
78
Family Nurse Practitioner
70
Computer and Information Science
66
Business Administration
SUNY Poly Partnerships Pay Dividends for Innovation and Educational Opportunities
SUNY Poly joined Wolfspeed (formerly Cree, Inc. (Nasdaq: CREE)) in congratulating eleven SUNY Poly students who were announced as recipients of the newly established, merit-based scholarship program. The scholarships aim to ensure students who come from historically underserved or marginalized communities, as well as those with significant financial need, will have access to critical educational opportunities. The commitment from Wolfspeed includes:
A $2,000,000 scholarship program over 10 years, with this cohort of awardees receiving a total of $46,000.
This initiative is also complementary to the announcement of the Dr. John Edmond and Dr. John Palmour SUNY Polytechnic Institute Endowed Faculty Chairs:
The five-year, $1,500,000 funding underpins the continued expansion of science, technology, engineering, and mathematics (STEM) opportunities for students at SUNY Poly.
SUNY Poly's Opportunities for Students to Transfer Celebrated
The Association of Public & Land-Grant Universities (APLU) featured SUNY Poly in its selection of "Transfer Student Success Programs," noting that, "In addition to unique agreements with two-year schools, SUNY Poly also offers a Path to Poly program to first-year students who were denied admission for the fall semester. Students in this program will be admitted to a community college with conditional acceptance to SUNY Poly, allowing transfer counselors the opportunity to provide guidance and resources to the program participants that will prepare them for a smooth transition to SUNY Poly upon admission."
This followed news that Phi Theta Kappa recognized SUNY Poly as one of only 150 colleges and universities in the country to be named to its 2021 Transfer Honor Roll.
AIM Photonics Announces Dr. Tod A. Laursen as Chair of Leadership Council
The American Institute for Manufacturing Integrated Photonics (AIM Photonics) announced the appointment of Dr. Tod A. Laursen as Chair of the AIM Photonics Leadership Council, which focuses on the strategic and technical direction of the Institute. In this role, Dr. Laursen will hold leadership and oversight responsibilities, including direct engagement with industry and government stakeholders, strategic planning and management, and guiding photonics-enabled innovation.
SUNY Poly Looks Toward Opportunities with "Innovare Advancement Center"
SUNY Poly maintains its partnership with Oneida County, the Air Force Research Laboratory-Information Directorate and Griffiss Institute after the launch of the $12+ million Open Innovation Campus research center, now Innovare Advancement Center. In 2020, SUNY Poly professor Spyros Gallis was selected to compete in the IAC's "Million Dollar International Quantum U Tech Accelerator," with continued collaboration as a force behind the research and development of next-generation Quantum Information Science, AI/ML, neuromorphic computing, and cyber efforts.
SUNY Poly Further Builds its Academic Partnerships
Onondaga Community College (OCC) President Dr. Casey Crabill and SUNY Poly Acting President Dr. Tod A. Laursen signed a transfer articulation agreement in January which provides students who earn their associate degree at OCC a seamless pathway into one of 12 degree programs at SUNY Poly. OCC students will be able to take all of their credits with them to SUNY Poly and then complete work toward their bachelor's degree in as soon as two years.
Additionally, Hudson Valley Community College (Hudson Valley) and SUNY Poly signed an agreement that will allow students who successfully complete an associate degree at Hudson Valley to transfer as a junior into 29 unique bachelor's degree programs at SUNY Poly.
SUNY Poly's Hilltop Residence Hall Opens to Students
With construction completed, SUNY Poly's Marcy campus is now home to Hilltop Residence Hall, a 257-bed, zero-net, carbon-certified, building—the first-ever on a SUNY campus. Hilltop Residence Hall will use equal to or less energy than it can produce on-site through renewable resources, and in fall 2020, students moved into the new facility, as reported by WKTV.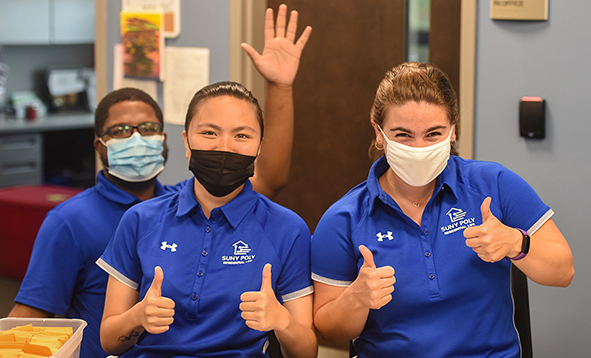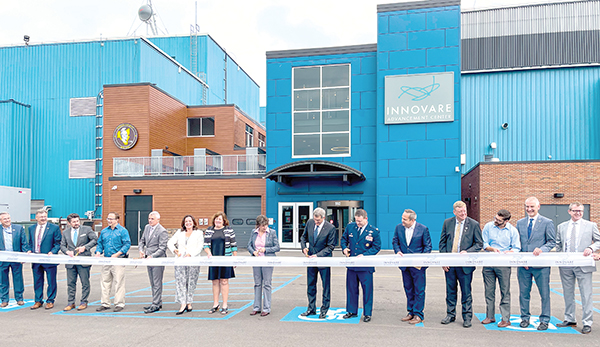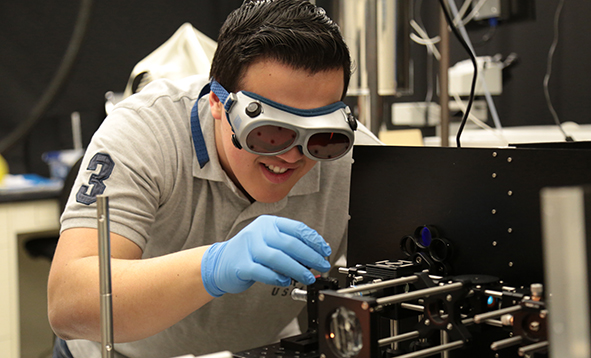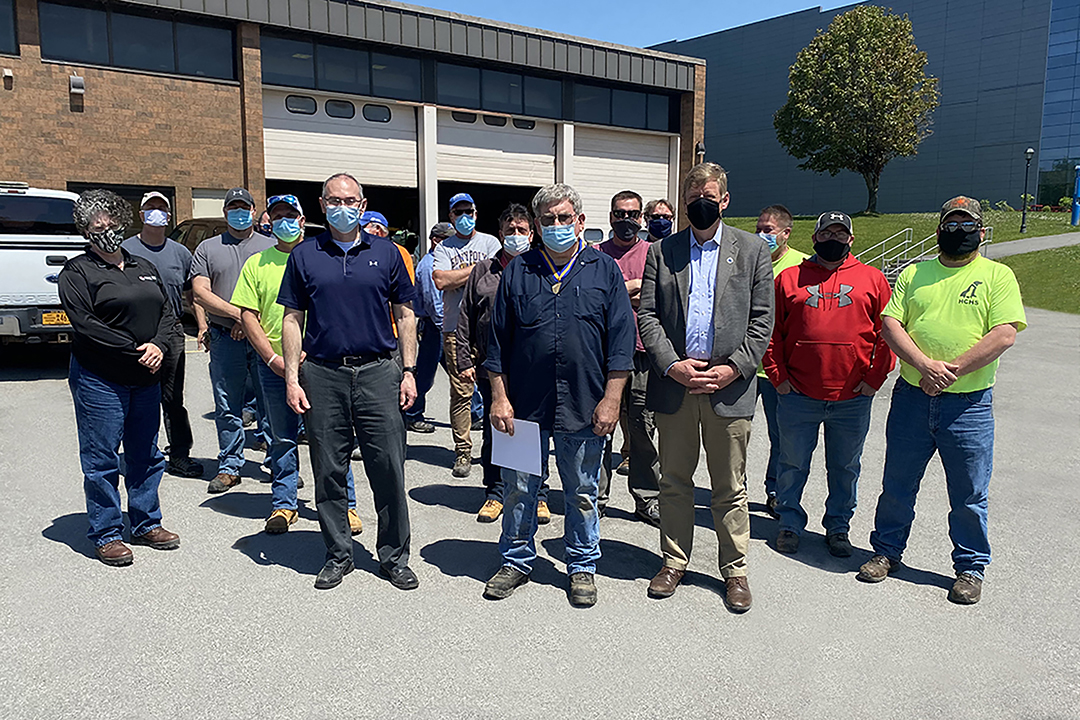 Faculty, Student + Staff Excellence Continues

SUNY Poly Faculty, Staff, and Students Receive SUNY'S Highest Honor—Six Recognized with 2021 Chancellor's Awards for Excellence
SUNY Poly proudly announced four members of its faculty and staff, and one student, received Chancellor's Awards for Excellence from the State University of New York in 2021. Through these awards, SUNY publicly proclaims its pride in the accomplishments and personal dedication of its instructional faculty and professional staff across its campuses. SUNY Poly's Chancellor's Award recipients include:
Chancellor's Award for Student Excellence: Argirios Papagianis
Chancellor's Award for Excellence in Professional Service: Elizabeth Tolman
Chancellor's Award for Excellence in Faculty Service: Dr. Zora Thomova
Chancellor's Award for Excellence in Teaching: Dr. Ryan Lizardi
Chancellor's Award for Excellence in Scholarship and Creative Activities: Dr. Kazuko Behrens
Chancellor's Award for Excellence in Classified Service: Steve Kornutiak
Adjunct Lecturers Share Inspiring Stories in 'On Point for College' video
SUNY Poly Adjunct Lecturers Bikash and Kumari Regmi shared their inspiring story in an On Point For College Celebration video, which showcases their journey from Bhutan during a brutal government crackdown to find the American Dream through a focus on education. Now, both Family Nurse Practitioners and adjunct lecturers at SUNY Poly, the Regmis have since decided to give back to students via a scholarship in their name, supporting students who aspire to compassionately improve the lives of others through healthcare and becoming model citizens.
Acting President Dr. Tod A. Laursen Congratulates Wildcats Athletic Teams on Successful Seasons
Dr. Laursen congratulated SUNY Poly's Wildcat teams as the 2021 spring season concluded. Notably, SUNY Poly's men's lacrosse team won their first conference championship, leading to their first NCAA Division III Championship Tournament match.
SUNY Poly Student Alex Huard Uses Magic to Raise Money for Rescue Mission of Utica
With help from fellow SUNY Poly students and other friends, Alex Huard raised $1,375 over a 6-week period by selling special Magic: The Gathering booster card packs, which were originally intended to be used in an upcoming tournament that was moved online due to the pandemic. With cash in hand, Alex contacted the Rescue Mission of Utica and purchased needed items, donating 45 pairs of boots and another 45 pairs of socks.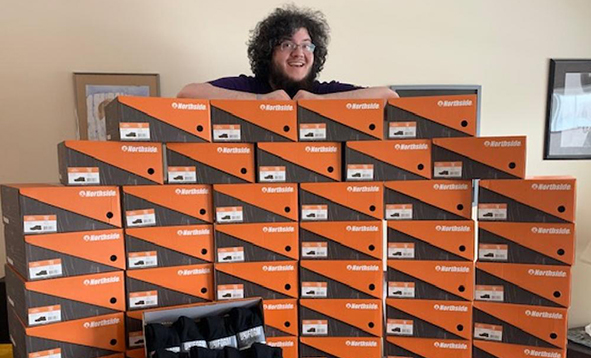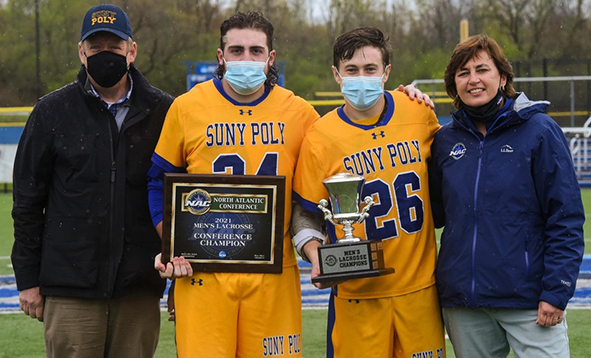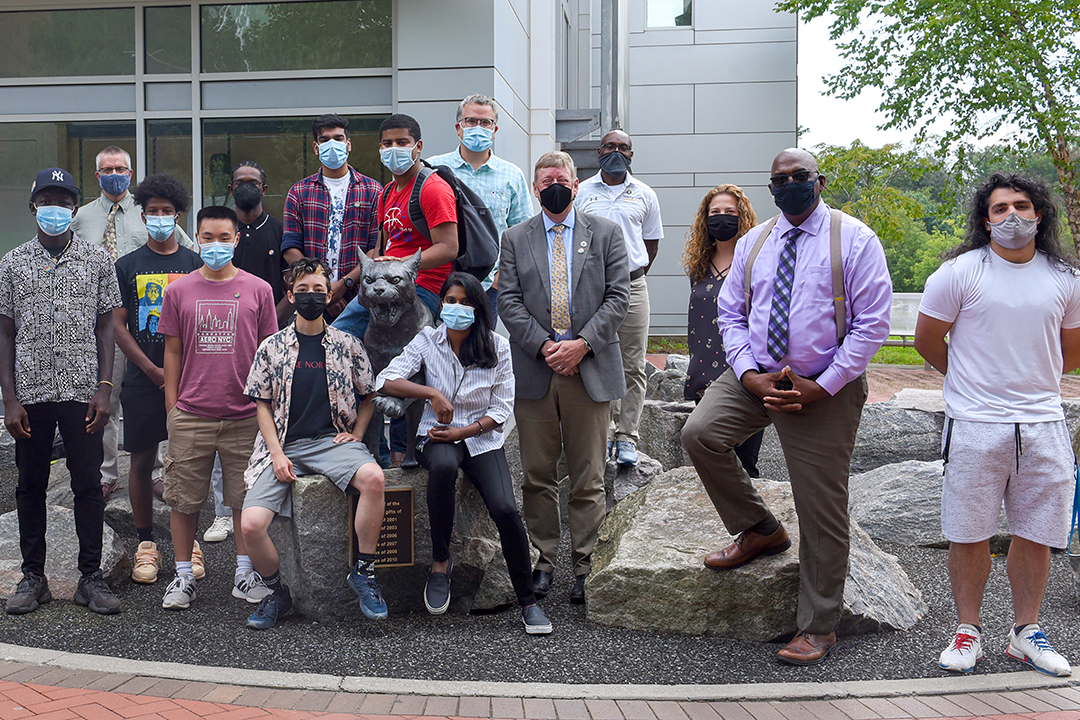 Diversity + Community Efforts

Diversity, equity, and inclusion have always been critical. But now, more than ever, SUNY Poly has even more deeply committed to addressing these important issues. Please see below for several highlights that focus on progress through action.
A Continual DEI Focus
Our new Chief Diversity Officer, Dr. Mark Montgomery, has been busy developing programming across our campuses for a sustained approach to DEI. He has hosted book discussions centered around diversity issues, workshops, and in-person and virtual individual and campus-wide conversations which have been positively received.
Community Action
In addition, SUNY Poly professor Ronni Tichenor has been involved with sharing policing and public safety findings at a series of "Police Reform in the Mohawk Valley" forums in February.
SUNY Poly Continues to Support ProdiG Effort to Increase Diversity among Faculty and Students
The institution is proud to support SUNY's recruitment of diverse faculty through the PRODiG (Promoting Recruitment, Opportunity, Diversity, Inclusion, and Growth) initiative, which aims to increase the representation of historically underrepresented faculty at SUNY. SUNY Poly has:
Developed committees tasked with increasing diversity among faculty and students; and
Developed several goals and recommendations.
More information about this program can be found here: https://www.suny.edu/prodig/.
SUNY Poly Strongly Supports the Grassroots "You Belong"
This group, comprised of student, staff, and faculty volunteers passionate about increasing awareness and creating change around issues of diversity, equity, and inclusion on campus has offered numerous programs surrounding topics designed to cultivate learning and allow everyone to feel included and welcome to share their voices.
Affirmative Action to Inform Recruitment Strategies
SUNY Poly's Affirmative Action Plan guides the institution's recruitment strategies. Efforts include training search committees on implicit bias and making recommendations to committees. Additionally, SUNY Poly is ensuring diversity for its search committees and looks at ways to diversify advertising and recruiting in order to gain more diverse applicant pools.
SUNY Poly, GLOBALFOUNDRIES Celebrate 'International Day of Women and Girls in Science' with Virtual Event Highlighting STEM Opportunities
SUNY Poly, in partnership with GLOBALFOUNDRIES® (GF®), celebrated "International Day of Women and Girls in Science" on February 11 by hosting a virtual event in which more than 30 young women from Tech Valley High School, Hoosick Falls Jr./Sr. High School, and Greenville Central School District participated. A panel of SUNY Poly nanoscale science and nanoscale engineering graduate and undergraduate students, along with women scientists and engineers who work at GF, shared the importance of studying science, technology, engineering, and mathematics, as well as ways the students can pursue high-tech career opportunities.
Additional Outreach and Support for All: 'Poly Pantry' Continues to Serve Wildcat Community
SUNY Poly's campus-based food pantry has provided hundreds of students, faculty, and staff of all backgrounds with food and toiletries. Donations for "Poly Pantry" have been provided by Walmart Inc., the Utica-based Compassion Coalition, Dominion Energy, SUNY System, and SUNY Poly faculty, staff, and students. "Poly Pantry" is part of an initiative to help provide SUNY/CUNY students with "stigma-free access" to a food pantry. Poly Pantry will be relocated to the first floor of Kunsela Hall in the Auxiliary Services/Bookstore location beginning with the fall '21 semester.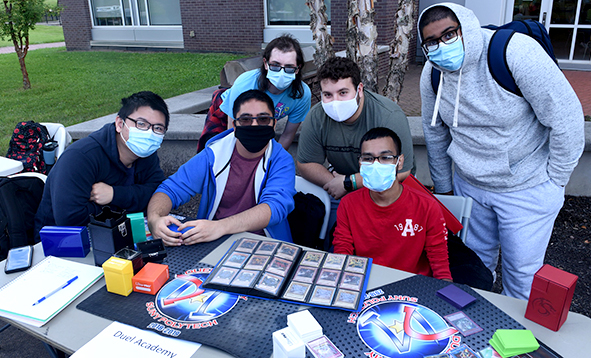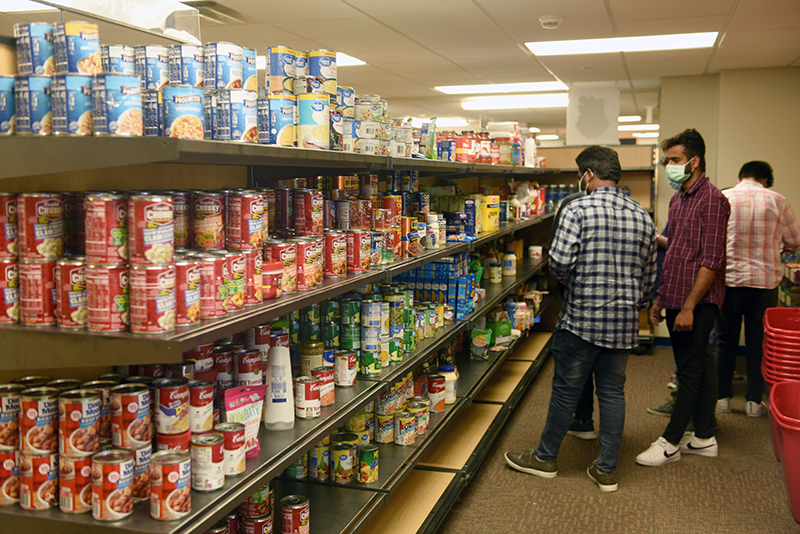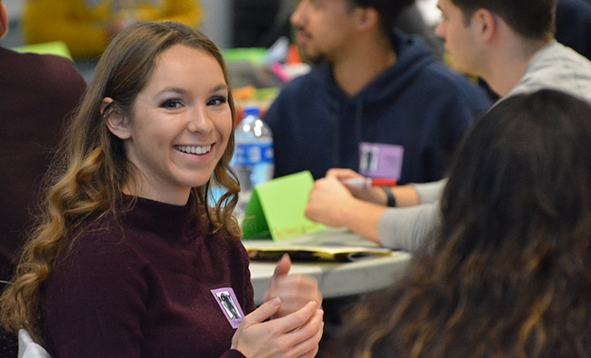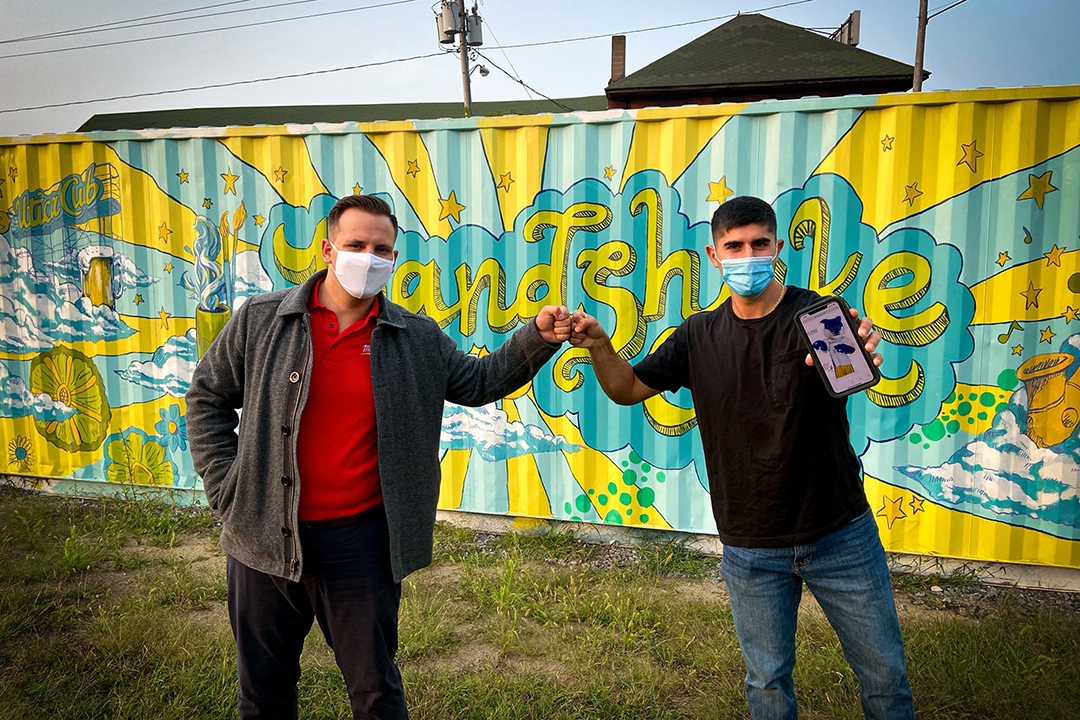 Alumni Achievements

Lux Semiconductor Led by SUNY Poly Alumni Takes Part in 2020 Class of Techstar's Starburst Space Accelerator Demo Day
Lux Semiconductor, a start-up developing next-gen system-on-foil flexible electronics and founded by two SUNY Poly alum while they were earning their Ph.D.s, was chosen to take part in the 2020 class of Techstar's Starburst Space Accelerator, culminating in demo day. Over several months, selected companies worked closely with Techstars, Starburst, a network of expert mentors, and formal sponsors from industry and government, endeavoring to rapidly accelerate their businesses. Lux is led by SUNY Poly graduates Shane McMahon and Graeme Housser.
SUNY Poly Alumni-led Spinoff Glauconix Featured in "SUNY Tech Forward"
The "SUNY Tech Forward" newsletter featured the SUNY Poly alumni-led spinoff, Glauconix Biosciences, a specialty pharma research company that uses an innovative platform technology to reduce the cost of ophthalmic drug development. In particular, Glauconix recently announced that the company had been awarded an NSF phase IIB Small Business Innovation Research Grant to support further expansion of Glauconix's business into efforts related to the posterior segment of the eye. Glauconix is located alongside SUNY Poly's campus in Albany and is a partner in the Center for Advanced Technology in Nanomaterials and Nanoelectronics (CATN2).
Observer-Dispatch Highlights SUNY Poly Alumni, Aspiring Rappers
The Observer-Dispatch showcased two SUNY Poly alumni for their musical talent, including Eric "Generic" Armitage as well as "23-year-old Malik Johnson, performing under the rap name Leeky XIV, who was on the bill this past summer as part of the weekly concert series held in Utica's Kopernik Park. The series focuses on presenting a diversity of music, arts and culture for the purpose of building community engagement, enrichment and revitalization."
IBM Highlights SUNY Poly Graduate Victoria Brunner as Part of Neurodiversity Awareness Month
As part of "Neurodiversity Awareness Month," alumna Victoria Brunner shared her path from loving electronics as a child to graduating at SUNY Poly's CNSE in 2019 with a bachelor's degree in nanoscale engineering and a concentration in nano electronics, which led her to work at IBM as a hardware engineer.
SUNY Poly Alumnus Saves Dog, Owner from Drowning in Frigid Ellicott Creek Park Near Buffalo
SUNY Poly alumnus Thomas Lucas, who graduated in 2017 with a bachelor's degree in mechanical engineering, happened to be walking his dog at a Western New York dog park when two people and their dog fell through thin ice. Upon seeing the commotion, he jumped into action, along with several other bystanders, helping to rescue the dog and the owners and earning news coverage from The Buffalo News and WKBW.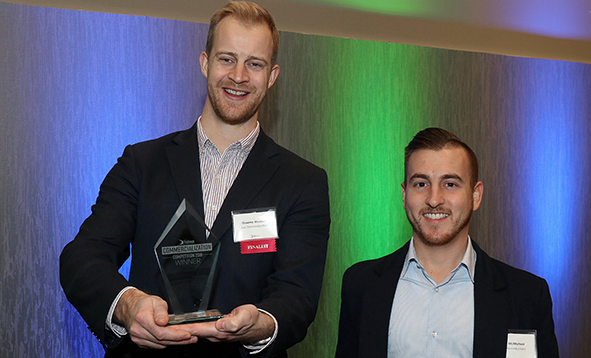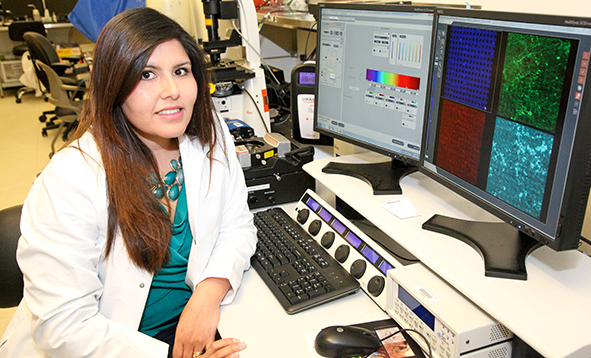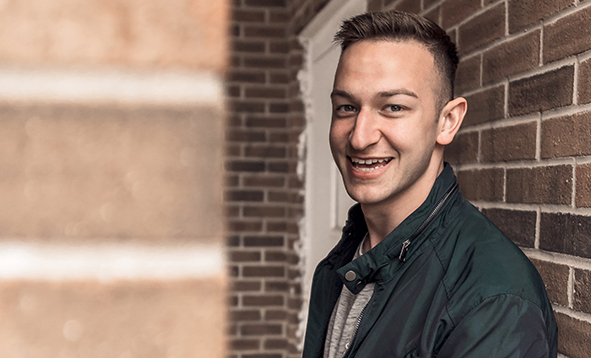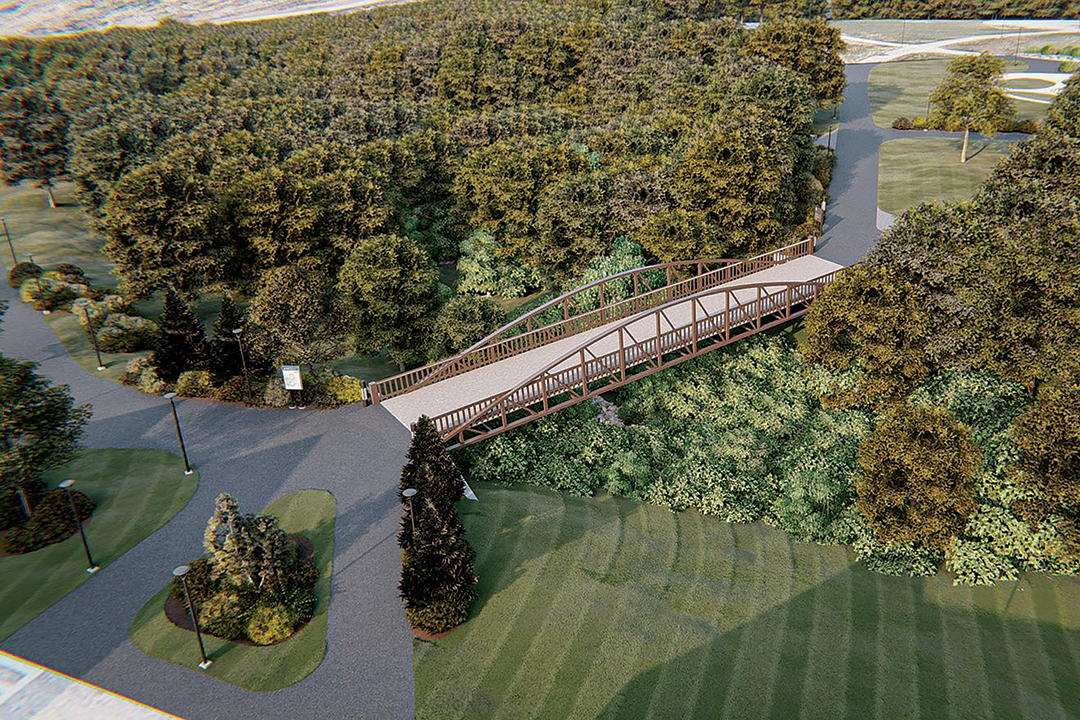 Infrastructure Improvements

The Facilities Department at SUNY Poly is responsible for the protection, operation, preservation, maintenance, and construction for over 910,000 square feet of building area and nearly 500 acres of landscape, athletic facilities, roadways, sidewalks, and parking lots at SUNY Poly's Utica campus. This is achieved with a dedicated staff of 53 employees. Each year, the Facilities department responds to thousands of work orders requested by campus residents, faculty, and staff for repairs and installations. They also provide for the set up and take down of equipment for campus events, deliver the campus mail, and distribute packages to students and staff.
The Facilities Department is also responsible for major and minor construction projects on the SUNY Poly campus, highlighted below, with current projects totaling more than $28M. The department plans, designs, and constructs capital projects to maintain and preserve the physical plant, address environmental concerns, and meet the changing pedagogies of higher education.
Capital Projects
Campus Center Renovations: Phases 3 and 4 ($24.9-million): Renovations include the conversion of an old pool area to create classrooms that can later be converted to meeting rooms and offices as an effective way to provide learning space in the near term and to facilitate renovations elsewhere on campus. A new, centrally located residential life suite, renovated athletic locker rooms, offices, and meeting spaces for coaches and athletes are also planned. In addition, a renovated lobby area will create a welcoming atmosphere for students and visitors, as well as greatly improve circulation and ADA accessibility. The project will reduce carbon emissions with the removal of existing natural gas boilers and installation of geothermal systems for cooling and heating the building.
Donovan Plaza Reconstruction ($1.04-million): The original plaza entrance to Donovan Hall was constructed of masonry, concrete, and stone consisting of steep ramps and stairs. The completion of the new plaza and east entrance to Donovan Hall has improved the safety and infrastructure of the east entrance to SUNY Poly's largest academic building on the Utica campus.
Wildcat Pedestrian Bridge Replacement project ($2.1-million): The construction of a new Wildcat Pedestrian bridge began in Spring 2021. The project will install a new steel truss bridge to replace an aging wood glue-laminate bridge. Included in this project is the relocation of a water line, new electrical/communications conduits, and the installation of new fiber runs to Adirondack Hall and the Campus Center to strengthen our network redundancy. Existing brick paver stairs will be removed and replaced with sidewalks to improve ADA access. For pedestrian safety, a new elevated crosswalk will be installed on the Wildcat service drive between the bridge and west entrance to Donovan Hall, along with a seating area overlooking the stream corridor at the location of the old bridge abutment.
Sidewalk Infrastructure Improvements: A 450-foot section of sidewalk between Mohawk Residence Hall and the Technology Drive intersection on the Utica campus was replaced to improve pedestrian safety.
SUNY Poly's Albany campus: Focused on education, research, development, and deployment of nanoelectronics and nanotechnology-based innovations, SUNY Poly's Albany campus is located at the 1.65 million-square-foot Albany NanoTech Complex, home to billions in high-tech investments and many industry-leading partners with on-site operations. This includes IBM, Tokyo Electron, Samsung, and Applied Materials, among others. The Albany NanoTech Complex also has 136,000 square feet of cleanroom space for next-generation computer chip R&D and manufacturing, including a state-of-the-art 300mm silicon wafer fabrication facility.